Geraldine "Dean" (Fischer) Miller Woods
---
Date of birth - June 22, 1931
Date of death - January 14, 2018
Geraldine Myrta Fischer was born in Meadowbook,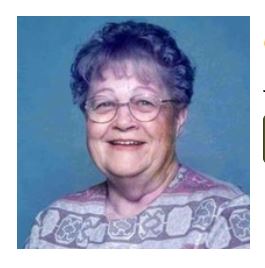 Oregon on June 22, 1931 to Ida Oglesby and Doresy Fischer. She passed away from her seventh bout with cancer on January 14, 2018 in her home in Mt. Angel, Oregon at the age of 86. She had fought many good fights since her first bout in 1985.
She attended Union Mills Grade School and graduated from Molalla High School in 1950.
She married William "Bill" Edward Miller on May 29, 1952. They lived in Molalla before moving to northern California in 1954; then in 1961, moved back to Molalla. With children grown and finding the need to downsize, they moved to Mount Angel in 1992. Bill suffered a fatal heart attack on March 31, 1999.
In 2011 she married Charles Richard Woods, Sr., and he lost his own battle with cancer in 2013.
She is survived by, her sons: Byron (Judi) of Silverton, Ed (Mary) of Aurora; daughters: Sandy (Donald) Dammann of Wamic, Denise (Rick) Carrier of Stayton, Karen (Darren) Velle of Beavercreek; a sister, LaVerne Fischer of Salem; 9 grandchildren: Jeremiah, Joshua, Jeanette, Ashley, Bobby, Savanna, Devan, Breanna, and Emma; 5 great-grandchildren: Julia, Jacob, Joseph, Brynn, and Cora; and her cat, Bimbo.
Dean was preceded in death by husband of 47 years, Bill, and husband of 2 years, Richard, her parents, and siblings: Ivan, Wayne, and Raymond Oglesby, and Elma Glade.
Dean was a homemaker and held various part-time jobs. She worked at Pendleton Woolen Mills as a seamstress, took her children, nieces, and nephews berry picking, and worked on a flower farm. She was a member of the Veteran's of Foreign Wars.
She enjoyed playing Bingo (especially with her friend Inez, other and her daughters), Pinochle, traveling (Hawaii and a cruise through the Panama Canal among her favorites), fishing with Bill and brother Ivan, crocheting, but mostly just spending time with her family.
A private graveside will be held at Adams Cemetery of Molalla. A Celebration of Life is to be held at 2pm, Saturday, Jan. 20, 2018, at Trinity Lutheran Church, 15534 E. Marquam Road NE, Mt. Angel, OR.
Donations in memory of Geraldine "Dean" Woods can be made to the local Silverton/Mt. Angel Meals-on-Wheels and Serenity Hospice of Salem.