Sharon G. (Burnett) Welsch
---
Date of birth - September 27, 1943
Date of death - December 24, 2016
Sharon Welsch, of Molalla, passed away on Dec. 24, at Providence Hospital. She was 73.
Sharon was born Sept. 27, 1943, to Gladis Parker in Gale's Creek, Ore. She was the second of three children. She attended Dickey Prairie School and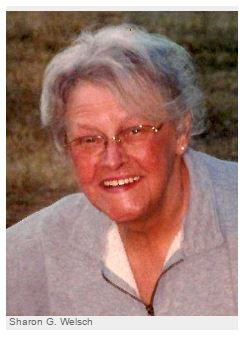 Molalla Union High School. She resided in Dickey Prairie her entire life.
Sharon married Patrick Welsch, the love of her life, in 1959. They had two children, Patrick Michael and Michael Lee.
She showered the community with love. Whether at home or at work, she was a very warm and caring person. She was a homemaker and also worked as a teachers aid at Dickey Prairie School, at the Colton nursing home, in the deli at Safeway, and, recently, as a cook at Pheasant Pointe Assisted Living.
Sharon loved spending time with her family and friends, laughing, enjoying her flowers, feeding the birds and her pet bobcat of 24 years, "Bozcat."
She was a devoted and loving wife, mother, grandmother, and friend. She impacted the lives of everyone who knew her. Our loss has left a great void, but her unconditional love will live on forever, until we see her smiling face again.
She leaves behind her memory to be cherished by her loving husband of 57 years, Pat; son, Mike; granddaughter, Samantha; and all her many friends. She was preceded in death by her son, Patrick.
At her request, no services will be held.
Created on Tuesday, 10 January 2017 | Written by Molalla Pioneer