Stanley Lee Watson
---
Date of birth - March 3, 1937
Date of death - January 2, 2020
Stanley Lee Watson of Yoder, Ore., born March 3, 1937, beloved father and grandfather passed away in his home on January 2, 2020.
Stanley will be remembered for his joy and curiosity in life, preferring to take the wandering scenic routes over the bustling speedways. A long time Oregon Duck (and Green Bay Packer) football fan, he was able to listen during his final days as his team prevailed at this year's Rose Bowl in Wisconsin - a place that also held a special fondness and distant family for him. His involvement at various local community and social gatherings will be missed.
After graduating from Molalla High School, Stanley served as an air traffic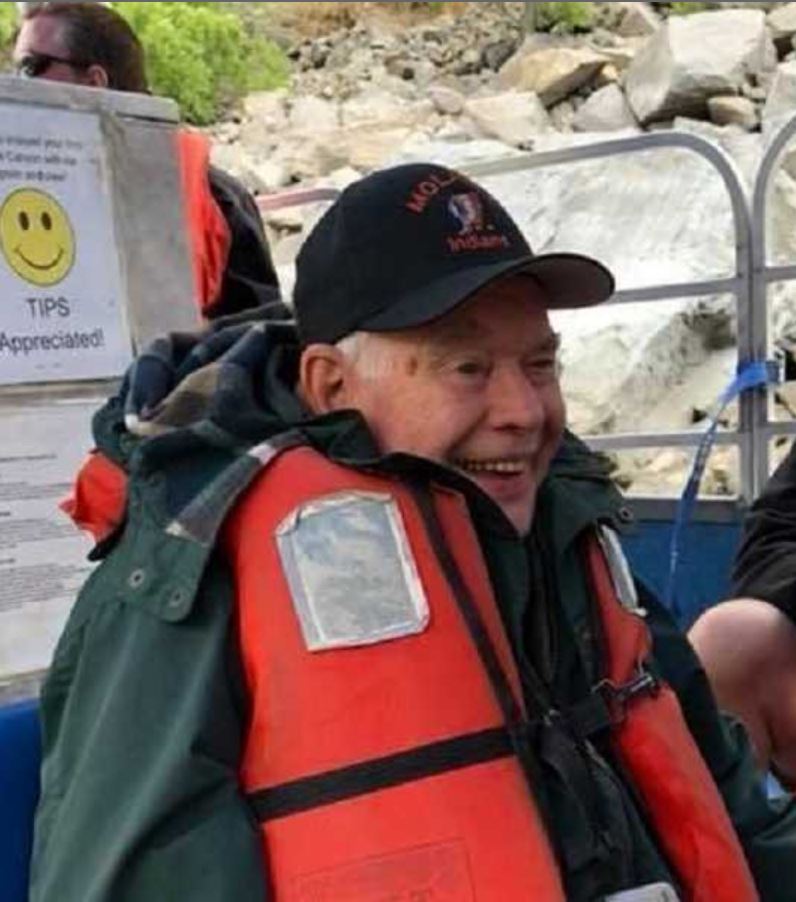 controller in the US Navy. Upon his honorable discharge, he moved to New York City to pursue an acting career in theater. In the mid 1960's a radio DJ job brought him back to the west coast, spinning records at Baker City's KBKR. After leaving Baker, Stanley drove log truck for many years in western Oregon, and ultimately retired as a postman for the Mulino Post Office.
While in Baker City, Stanley met his first wife, Ilena Shriver. They were married December 31, 1967 and had two children, Christina and James. Stanley later met and married Elizabeth Hayes on May 25 1974 and gained 6 additional children, Robert, Dawn, Donna, Keith, Scott and Elizabeth. The two remained married for the duration of their lives.
Stanley was preceded in death by his parents, Richard and Laura Watson, his wife Elizabeth Watson, his step daughter Donna Zich, step son Keith Hayes, granddaughter Angie Knerr, and grandson Gregory Tuggle. Stanley is survived by his daughter Christina Witham (Russell), grandson USMC Sgt. Elijah Witham, his son James Watson-Garrett (Annette), grandson US Army Sgt. Christopher Dixon, granddaughter Phoenix Garrett- Benedetti, granddaughter Rain Watson-Benedetti, and grandson Jude Garrett-Benedetti. He is survived by his sister Carol Darling (Clarence), niece Anita Darling, nephews Jeff and Gary Darling, his brother Doug Watson (Elva), niece Tessa Watson, his sister Joann Fertsch, niece Callee Miller and nephew Cody Fertsch. He is also survived by his stepson Robert Hayes, stepdaughter Dawn Hayes, stepson Scott Hayes (Mary), step daughter Elizabeth Watruos, grandsons Dan Hayes, Brian Hayes, TJ Zich, Calvin Hayes, Tony Hayes, great grandson Brody Knerr, great-granddaughter Jayden Zich, his stepson Edward Carey, stepson Charles Carey (Jeanine), granddaughter Katie Shamion, great-grandson Mason and great-granddaughter McKenna Shamion, grandson Nick Carey, great- grandson Wyatt Carey and step daughter Wendy Carey (Marty).
A memorial will be held on January 18, 2020 at 11:00 am at the Smyrna United Church of Christ, 31119 S. Highway 170 Canby, OR. 97013, potluck to follow. In lieu of flowers, please bring your favorite potluck dish to share.