Ella Mae (Robbins) Wampler
---
Date of birth March 2 1928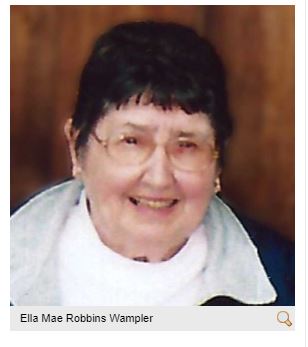 Date of death July 5 2017
Ella Mae Wampler passed away July 5, 2017. She was 89. Ella Mae Robbins Wampler Ella Mae Robbins Wampler She was born on March 2, 1928, to Bud and Alice Robbins in Molalla, Ore., in the house that her father built.
She graduated from Molalla High School in 1946, and completed two years of higher education. Ella followed in her Uncle Duane's footsteps by becoming a banker, working in Portland, Lakeview, Coos Bay, and Oregon City. In her second career as a business owner, she ran a dry cleaning business with her husband, Bob Wampler, in Oregon City.
Ella retired to Windy Bend, near Lincoln City, where she enjoyed fishing, birding, mushrooming, and nature in general. Ella Mae is predeceased by her two older brothers, Bob and Dick; and her husband, Bob Wampler.
Ella was a gentle and kind soul, who could see the good in people and who accepted life amiably and without complaint. She was the last repository of old Oregon family colloquialisms. She died peacefully and with her usual calm acceptance—falling into her friend's arms after saying, "I can't do this anymore."
Special thanks go to the Pheasant Pointe staff for their compassionate and loving care for Ella for the last seven years.
A graveside service will be held at Adams Cemetery in Molalla on Sunday, Sept.17, 2017, beginning at 1 p.m.
---
Ella M Wampler, 89, passed away in Molalla, Oregon on July 5, 2017. She was born in Molalla, Oregon on March 2, 1928 to Homer and Emma Robbins. She grew up on the family farm on Adams Cemetery Road, south of Molalla.
A memorial service in her honor will be held in September. A complete obituary will be announced in a future issue of The Molalla Pioneer.