Gerald Leo Vandehey
September 6, 1948 – January 12, 2011
Gerald was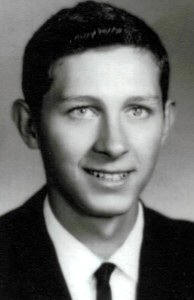 born to Robert and Frances Vandehey in Woodburn, Oregon and lived his early years in Hubbard, Oregon.
He attended St. Lukes Catholic Church all his youth. He earned a basketball scholarship to Mt Hood Community College. He was in the Navy for four years. He graduated with a Bachelor of Art and Masters Degree in Education from The University of Oregon, then taught shop at Vernonia High School.
He married Linda Tumura and they moved to Hillsboro where he lived for many years. After his divorce he moved to Salem, Oregon. He loved carpentry and making furniture for his family.
He is survived by; brothers, John and Tom Vandehey both of Woodburn; sister Susan Vandehey of Salem; sister Judy Gatchel of Milwaukie; nephew Robert Bachelder of Oregon City and one great niece.
A graveside service will be held Thursday, January 20, 2011, at 10:00 a.m. at Willamette National Cemetery in Portland, Oregon.
Arrangements by Crown Memorial Center – Salem.
This entry was posted on Crown Memorial Center (Salem) web sit Wednesday, January 12th, 2011 at 1:55 pm and is filed under Obituaries.