Audrey Priscilla (Crawford) Toothman
---
Audrey Priscilla Toothman was born in Liberal, Ore., on Dec. 3, 1919. At the age of 97, she passed away peacefully at her apartment with family by her side.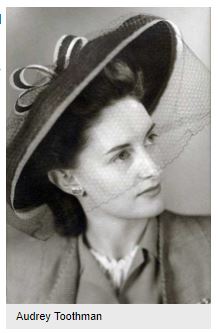 Audrey ToothmanAudrey Toothman Audrey was born to Kathryn and "Hap" Crawford in 1919, which was the year of the big snow, as she liked to say. She started school in Woodburn, but moved to Mehama before finishing the first grade. In 1933, her family moved back to Liberal and she graduated from Molalla High School in 1937. In 1939, she graduated from Veauty Beauty School in Portland, but did not find her real talent until she began working for General Motors in The Pittock Building in Portland in 1941.
In 1942, Audrey met her future husband, Luther Toothman, during his first night in Portland, when he was in the Army Signal Corps. They were married on Nov. 1 of the same year.
Audrey became a homemaker, devoted wife and mother. She supported Lu throughout his career. Although they lived for short periods in other states, Oregon remained their home. They were married for 50 years before Lu's death in September of 1993.
Audrey loved to read, and became very involved in writing. Some of her work was published in local publications. She was also an accomplished pianist, with music being a lifelong passion.
Throughout her life, people would tell her how much they loved the sound of her laughter, which could be heard often. She will be remembered for her generosity, with family and friends, and for the way she could brighten a room just by walking through the door.
Audrey was preceded in death by her husband; and younger brother, Charles Crawford and is survived by her only child, Janet; granddaughter, Lisa; great-grandson, Zak; nieces, Tina and Karen; and her cousin, Bonney.