Elwin Swigart
---
Created on Tuesday, 28 February 2017 | Written by Molalla Pioneer
Elwin Swigart passed away Feb. 5, 2017. He was 99.
Elwin began his life Oct. 11, 1917, at a logging camp in Viola, Ore., where he was born to Harley and Edna Swigart. When he was three years old, he moved with his family from Viola to a logging camp, on Trout Creek on the outskirts of Molalla. He had a wonderful life there, hunting and fishing. Elwin graduated from Molalla High School in 1936. After graduation, he worked in the woods and the saw mills, saving his money. He asked his high school sweetheart for her hand in marriage, and Ruba Foglesong accepted. They were married March 15, 1942, just before Elwin was drafted into the army on May 6, 1942.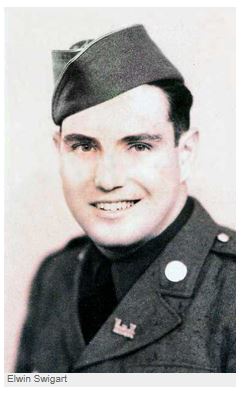 After two years of training, Elwin landed on Omaha Beach, Normandy France, June 6, 1944, D-DAY, with the 5th Engineer Combat Brigade. Elwin was honorably discharged, after fighting for his country for three and one-half years. He fought at the Battle of the Bulge, when Hitler made his last stand. Elwin's military ribbons display "four Battle Stars" and the "Arrowhead," for an amphibious assault landing on Omaha Beach on D-Day. His Fifth Engineer Combat Brigade received a unit award from the French Government, the "Croix de Guerre", which is proudly displayed in his living room.
Thankfully, Elwin returned home to his wife, Ruba and their two-year-old son, Randy. After only two weeks at home, Elwin secured a job with the Molalla Post Office, where he was employed for 40 years. Elwin learned to fly and earned his private pilot's license. He was active in the Molalla Methodist Church and served on the Molalla City Council as president. Elwin belonged to the Masons, and served as Associate Guardian of the Molalla Bethel. After retiring, Elwin studied for and received his real estate license. He enjoyed hunting, fishing, gardening, woodcutting and coffee with the "Guys" morning and afternoon.
The sunset of Elwin's life came in the early morning hours of Sunday, Feb. 5. He was 99 years of age, and left this world very peacefully.
He is preceded in death by his father, Harley Swigart; mother, Edna Swigart; wife, Ruba Swigart; and sister, Lucille Thronson, all of Molalla; granddaughter, Kayla Shultz Wiederhold of Brightwood, Ore.; and great-grandson, Jack Blair of Turner, Ore.
He is survived by his children, Randy Swigart of Stayton, Ore., Susan Shultz of Salem, Ore., and Keith Swigart of Molalla, Ore.; five grandchildren, 10 great-grandchildren and four great-great-grandchildren.
In 2009, the Molalla Pioneer ran a serial telling of the Heroic WWII licks of Elwin Swigart. A quote from that serial that proves fitting is, "Elwin Swigart, a native son of Molalla, manipulated machinery in mills, maneuvered military minefields, and moved much mail as a mailman."
When asked what he felt the greatest accomplishment in his life was, he simply stated, "WWII".
A private family military service will be held at Willamette National Cemetery. A Celebration of Life will be held at the Molalla Methodist Church on March 25, at 1 p.m.
Memorial contributions may be made to the Molalla Methodist Church memorial fund or Willamette Valley Hospice, a non-profit in Salem, Ore.
Elwin Swigart
---
Date of birth October 11 1917
Date of death February 5 2017
Elwin Swigart, age 99, Born October 11 1917, Died February 5 2017
Elwin Swigart was born Oct. 11, 1917 in a logging camp in Viola, Ore., to parents, Harley and Edna.
At the age of three years, he and his parents moved to Molalla, Ore., where he met the love of his life, Ruba Fogelsong.
He passed away peacefully in his home, in Molalla, at the age of 99.
Elwin was a WWII Veteran, having landed on Omaha Beach on D-Day and fought in the Battle of the Bulge, receiving the "Croix de Guerre" after freeing France.
He is survived by three children; five grandchildren; and 10 great-grandchildren.
A Celebration of life will be held at 1 p.m., March, 25, 2017 at the Molalla United Methodist Church, 111 Mathias Rd, Molalla, OR 97038