Hilmer Sigfrid Swanson
---
Date of birth - 1923
Date of death - November 23, 2018
Major Hilmer Sigfrid Swanson USAF (Ret.) Hilmer S. Swanson of Kent, Washington passed away on November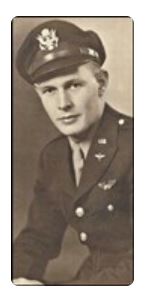 23, 2018. In 1923, he was born to Swedish immigrants Sigfrid and Hilma Swanson and was raised in a small farming community in Oregon. He attended a one room school house for his early education. He won a national science award at the age of 16 and displayed an aptitude for science, aviation and flight from an early age.
Hilmer was a WW2 veteran and pilot who survived flying numerous B-24 missions over Germany between 1944 and 1945. He was a retired Air Force Major and earned 2 bachelor's degrees in aeronautical and mechanical engineering. He also held a patent for an aviation related wind tunnel.
After retiring from active duty, Hilmer worked for several aviation related companies including Western Airlines, Boeing and Cessna during his civilian career. As a survivor of a plane crash in 1956, he suffered lingering effects from a broken back for the rest of his life, but did not let it affect his work or leisure activities His many hobbies included flying his homebuilt airplanes, reading, world traveling and inventing. He designed and built several airplanes and was an active member of the Experiment Aircraft Association for many years.
He is survived by his wife Norma, his son Erik Swanson (Renee) and daughter Ellen Smith (Tim). He has 2 grandchildren Paula and Josh, and 2 great-grandchildren. He was preceded in death by his sister Ellen, his parents, his wife Ruth after 52 years of marriage and his granddaughter Andrea.
A special thanks to his wife Norma and her daughter and son-in-law, Amron and John Spaid for caring and including Hilmer in their lives over the past 20 years.
A military burial service will be held at the Tahoma National Cemetery, 18600 SE 240th St., Kent, WA 98042 on December 5, 2018 at 9:30 AM.
Published in The Seattle Times.