Martha Ann Sumption
---
Sumption, Martha Ann, age 79, born 11/09/1930, died 09/05/2010
After becoming diagnosed in April with pulmonary fibrosis, Martha developed acute pneumonia that almost killed her May 3, 2010. Although she never regained her strength and had to have oxygen, she enjoyed another three months of life at Mountain View with many friends visiting.
She was the only child of Earl and Lois VanAuken who had lived in Oregon City since the early 1900s. Martha graduated from Oregon City High School, Multnomah College, and got her master's degree from Lewis & Clark College.
Martha passed on her love of education by teaching high school classes in English, Spanish, journalism, yearbook, and photography in Canby, Aberdeen, Wash., Oregon City (where she had the dance team), and mainly Molalla.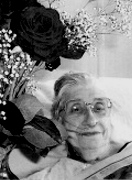 She was a Fulbright Scholar who taught a year in Japan.
Nobody was kinder or more generous than Martha to former students, friends, and neighbors. She volunteered and served with the senior center, AARP, Retired Teachers, Citizens Planning Organization (CPO), and the park advisory board.
If anyone needed help, she provided it. She always remembered and kept in touch with cards and notes. Even the neighborhood dogs all got Christmas stockings.
A memorial gathering will be at 1 p.m. Friday, Sept. 17, 2010, in Wilhelm's Portland Memorial chapel. Martha was passionate about all animals and you can honor her memory by donating to the Portland Feral Cat Society, Dove Lewis, or any local animal charity.
Published in The Oregonian on September 12, 2010