Donald Leo Slaughter
---
Date of Birth : July 1 1931
Date Deceased : July 1 2015
Donald L. Slaughter, 84, passed away on July 1, 2015 in Oregon City, Oregon.
He was born in Marquam, Oregon on July 1, 1931 to Thomas and Ida Slaughter.
Arrangements entrusted to Molalla Funeral Chapel.
---
Date of Birth : July 1 1931
Place of Birth : Marquam, Oregon
Date Deceased : July 1 2015
Location : Oregon City, Oregon
Sadly, on July 1 2015, we had to say goodbye to Donald Leo Slaughter of Oregon City, Oregon.
Family and friends can send flowers and/or light a candle as a loving gesture for their loved one.
Leave a sympathy message to the family in the guestbook on this memorial page of Donald Leo Slaughter to show support.
https://www.everhere.com/us/obituary-oregon-city-donald-leo-slaughter-1655637

---
New scholarship comes from surprising donor
The Molalla donor, Donald Slaughter, may have never graduated from high school.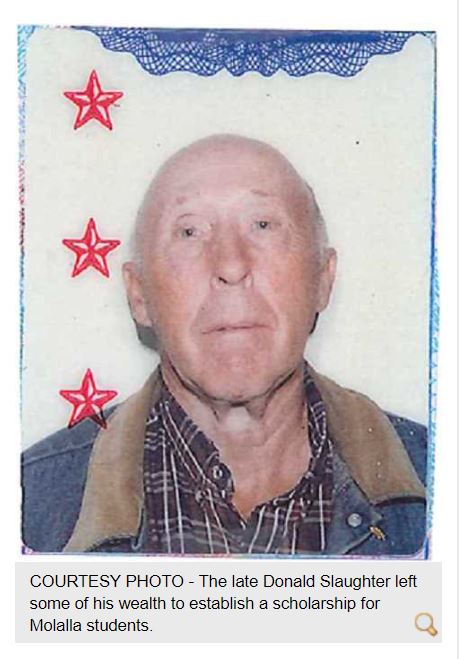 For many years Molalla High School seniors have had plentiful opportunities to win local scholarships, but this year, a new scholarship came to town in the amount of about $100,000 or more to be disbursed exclusively to Molalla graduates. And the funds come from an unlikely source. The scholarship is a gift from Donald Slaughter, who passed away on his birthday in 2015.
As far as his attorney Don Kelley can tell, Slaughter may have never graduated from high school. Yet, he arranged to give much of his wealth to Molalla's graduating students. "He had been a student at Molalla High School," Kelley said, "though I never found any indication that he graduated. I found a reference to his junior year, but that was as far as I ever found."
Kelley had been Slaughter's attorney for decades, and upon Slaughter's death Kelley became the executor of Slaughter's estate. Kelley is now the board chair of the Donald Slaughter Scholarship Foundation, which he estimates will provide $100,000 or more annually in scholarships.
In this first year, which was a partial year, the fund allowed for nearly $125,000 in scholarships, including awards given to previously graduated Molalla High students. The scholarship was among several charitable gifts found in Slaughter's last will and testament.
You might expect a man with such wealth to have lived an extravagant lifestyle, but that was not so. "He's the last person in the world you would think of that would do something like this," said Joel Daniels, chair of the Molalla Alumni Association scholarship committee. Rather, Slaughter lived frugally, and he invested wisely. "He lived very simply—I mean very, very simply—and did most everything for himself," Kelley said.
It's almost as if Slaughter saved money throughout his whole life only to give it away in the end. It is clear Slaughter cared for his community, and it seems the community returned the sentiment.
As executor of Slaughter's estate, Kelley tracked down all of Slaughter's assets. He went to every bank in Molalla to find out if Slaughter had an account. He found accounts, but he found something else too—people who were fond of Slaughter. "In all the going around," Kelley said, "I never met anybody that didn't have a smile on their face when I said his name. He was just a nice guy."
Now Slaughter's legacy will forever be connected with his donation of the generous scholarship, and Molalla students will benefit for years to come.
This article is reproduced from the Molalla Pioneer, written by Kristen Wohlers, reporter. Her email: kwohlers@pamplinmedia.com