Donna June (Moen) Skirvin
---
Date of Birth : June 2, 1941
Date Deceased : June 19, 2009
Donna June Moen was born in Silverton, Ore. to Olaf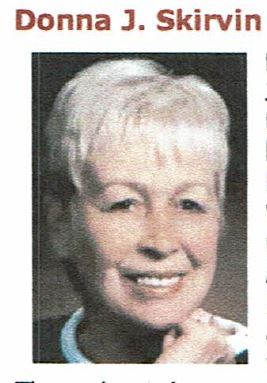 and Louise Moen. She was the youngest of seven and always referred to herself as 'the tie breaker' between 3 brothers and 3 sisters.
Donna spent her childhood growing up in the towns of Monitor, Woodburn, Silverton, and Molalla, graduating from Molalla High School in 1959.
She married Fredric (Fritz) Skirvin in April 1967 and they made their home in Salem for 42 years.
Diagnosed with lung cancer in March 2009, Donna passed away peacefully at home, surrounded by her family.
Donna worked for State Farm Regional Office for a few years. Throughout her working career, she also held jobs at several other companies where she performed accounting and office management duties. Donna was an active member of Holy Cross Lutheran Church and she enjoyed filling her retirement years with her favorite hobbies which induded: entertaining guests, home canning, feeding humming birds, gourmet cooking, daily crossword puzzles, watching her shows The Price is Right, Jeopardy, and Wheel of Fortune, clam digging, fishing on the Ocean Pacific, golfing, gardening, volunteering at church, and spending time with her grandson.
Most of all, she enjoyed her time spent in the company of her many family members and friends. Donna is survived by her husband, Fritz; daughter, Gayle (Young); son-in-law, Lothar Young; and grandson, Erik Young (Keizer); brother, Gordon Moen (Lincoln City); and sisters, Ruth Rue (Corvallis), Opal Johnson (Arcadia, calif.), and Eleanor (Bernard) Smith (Portland); as well as many nephews and nieces. She was preceded in death by her parents; and her brothers, Roger Moen and Gerald Moen.
On Friday, June 26 at 10:30 a.m., a procession will leave the Unger Mortuary in Silverton, Ore. to the Lewis Cemetery (off Drift Creek Rd.) for a graveside service. A celebration of Donna's life will follow from 12 to 4 p.m. at Santiam Golf Course, 8724 Golf Club Rd. S.E., Stayton, Ore.)
In lieu of flowers, donations may be made to the Holy Cross Lutheran Church Endowment Fund, 1998 Lansing Ave. N.E., Salem, Ore. 97303.
The family would like to express sincere gratitude to our extended family, neighbors, and friends, as well as the health care professionals who have supported us through this difficult time.