Larry A. Schoenborn
Schoenborn, Larry A., age 72, born 01/18/1939, died 02/03/2011
Larry Schoenborn, a fishing icon in the Pacific Northwest for decades, died Thursday morning following a 12-year battle with cancer.
He was surrounded by family in his Vancouver home.
A funeral will be at 1:30 p.m. Tuesday, Feb. 8, 2011, in Vancouver Church of Christ, 9019 N.E. 86th St., Vancouver, WA 98662.
In lieu of flowers, the family requests gifts be made to the Vancouver Church of Christ building fund.
Reprinted from the Portland Oregonian, published on February 8, 2011
---
Bill Monroe: Larry Schoenborn a fishing pioneer -- and ever the salesman
Reprinted from the Portland Oregonian, where it was published: Friday, December 31, 2010, 11:59 AM Updated: Friday, December 31, 2010, 5:52 PM
By Bill Monroe, Special to The Oregonian
VANCOUVER -- In a preobituary recap of her father's life, Sherri Murray of Vancouver symbolizes Larry Schoenborn's living legacy in a single quote, delivered to an emergency room doctor in a Vancouver hospital this past November.
"Have you ever bone-fished on Christmas Island?"
Schoenborn, a Molalla native, local sporting-goods and television icon and ever the consummate salesman, was on the hunt.
The question, Murray writes, was "his first line to the doctor" after a long flight from Brazil with a broken hip.
Schoenborn, 71 and reaching for 72 on Jan. 18, is in the final stages of multiple myeloma, an incurable terminal cancer of blood plasma cells that lodges in bones.
Yet he remains just as persistent as his affliction, active at the helm of the family travel and adventure fishing business despite a warning by his oncologist there was a 20 percent chance he wouldn't make it home from his last excursion.
Anyone who knows even a little about Schoenborn can imagine his reaction to being told he shouldn't go fishing, even by his close friend and frequent fishing partner, Dr. Marcus Braun of Vancouver.
Schoenborn did the math, realized that meant he had an 80 percent chance of getting home, so went anyway. He broke his hip in a fall at a fishing lodge and limped home to Braun rather than stay in South America.
Braun might be out of options, but the patient still has plans.
"I may try to be at the (Pacific Northwest Sportsmen's) show in February, and I'd like to get to Costa Rica in April," Schoenborn said Tuesday during an interview in his home. He and Ethel, 72 and his wife of 53 years, team with their family in "Fishing with Larry." Larry and their son, Guy, manage the fishing while Ethel and Guy's wife, Norma, do the books, host the spouses and, occasionally, host trips themselves.
Weakened by his hip and the latest round of chemotherapy, Schoenborn's handshake is nevertheless strong, his hug sincere.
Few of the millions of anglers in the Northwest and beyond realize just how much they also fall within that embrace.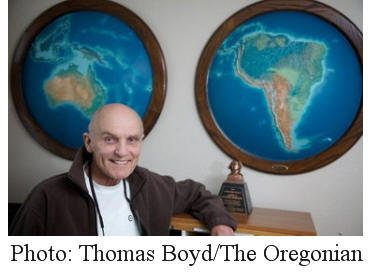 Schoenborn caught his first steelhead in the Molalla River at the age of 5 and was a young assistant manager of Safeway in Pendleton when he changed career paths and was hired to run Foster Sporting Goods in Portland, later in Oak Grove.
In 1965, he and Ethel opened Larry's Sport Center in Oregon City and in 1982 created "Fishing The West," to this day one of the most popular and prolific television fishing shows ever produced. More than 330 segments aired across the United States and were carried internationally from Britain to Japan (where he still has strong name recognition among an angling-crazed public). Reruns continue in overseas markets such as France.
Schoenborn lost the show and his business in a 1993 Chapter 11 bankruptcy but, undaunted, opened his popular angling travel business the next year (fishingwithlarry.com).
Schoenburn is credited with introducing fishing equipment and techniques to anglers. "Fishing The West" remains the high point of his career, Schoenborn said.
"Larry Schoenborn has fished more water around the world than anyone I know," said Buzz Ramsey, himself a Northwest angling icon, marketing director for Yakima Bait Co. and a frequent guest on the show. "That show and his sports center influenced a lot of anglers' lives."
Bob Toman, a Carver fishing guide who was one of Schoenborn's first two employees in the new store, credits his former boss for not only popularizing fishing, but also introducing rods and reels, lures, techniques and places to use them.
"He was always trying to get us to try new things," Toman said. "If it wasn't for guys like him, we'd all still be using a hook and a worm."
Ditto, said Dudley Nelson of Milwaukie, another former employee and retired Oregon State Police fish and wildlife lieutenant.
"Larry sold fishing, not just tackle," Nelson said. "He worked seven days a week, 16 hours a day. He was relentless and always was big in providing information. He brought a lot of good fishing holes and opportunity to a lot of people."
Brad Staples of West Linn, who guides some of Schoenborn's international trips, said Schoenborn has a large, loyal following of clients because of his attentiveness and tenacity. They include octogenarians and one woman in her 90s, Staples said, adding, "He's one tough dude."
Hobart Manns of Gresham, an outdoor writer, lecturer and local outdoor radio host, said Schoenborn "always had time to take a moment and talk to people. The customer was the audience. Very few people in business these days realize that."
Sherri Murray and Guy Schoenborn help their parents. Another son, Brad Schoenborn, manages the fishing department at Bob's Sporting Goods in Longview, Wash., and produces a wide array of fishing tackle under his own name. Larry and Ethel Schoenborn have 14 grandchildren and seven great-grandchildren.
Schoenborn said he would appreciate hearing from former friends and fans through his website.
He said he'd like to be remembered not only for bringing fishing to so many people, but also for his deep faith in God. He and Ethel are active in the Vancouver Church of Christ. They host regular Bible study classes in their home.
His best fishing advice? "Wear Polaroid sunglasses and keep your hook sharp ... sticky sharp," he said.
And best life advice? "Start living now," Schoenborn said. "You're only old once; take that trip; don't put off enjoying life until you can't anymore."
Daughter Sherri tapped her father's greatest strength in her piece: "During Larry's 12-year battle with cancer, his optimism and fervor for life, and his next fishing trip, proved to be an inspiration to everyone who knows him."
-- Bill Monroe