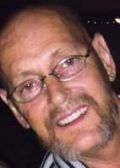 Born November 5, 1950 - Died December 13, 2010
SALEM - David C. Russell was born November 5, 1950 in Grants Pass, Oregon. David grew up on a family farm outside of Molalla with his parents, Frank and Charlotte Russell, three sisters, and three brothers. A strong work ethic and sense of independence were instilled at an early age.
Enlisting in the Army at the age of 17, David was sent to Fort Lewis, Washington for basic training. His next assignment sent him to Germany to be trained as a large vehicle mechanic. By the age of 18, David volunteered to go to Vietnam. During an intense attack there were many casualties. David exposed himself to the hail of gunfire with complete disregard for his own safety and evacuated a wounded soldier. David's actions were responsible for saving another soldier's life and he was awarded the Bronze Star with Valor for his bravery.
After returning home, David attended college in Astoria; His main interest was learning various welding techniques. Along with this education and his training as a large vehicle mechanic in the Army, David spent most of his career in these fields. He retired from Highway Fuel Company in Salem after working as their mechanic for over 20 years.
An interest in anything mechanical led to a lifelong love of motorcycles. David earned money for his first mini bike at the age of nine and owned many motorcycles throughout his life, but his bike of choice was Harley Davidson. Riding to Sturgis, South Dakota to participate in the rally's 50th celebration was a memorable trip.
David's daughters, Bridget DeLeon, Elizabeth and Olivia Russell, were his heart and soul. They all live in the Salem area and together with David's grandchildren; they brightened his life and were with him in his final days.
A Military Service at Willamette National Cemetery was held on Wednesday, May 11, 2011 at 1 p.m. Following the service, friends and family are invited to a celebration in David's honor.
Reprinted from www.StatesmanJournal.com. Published in StatesmanJournal on May 6, 2011