Judith May Miettunen Repplinger
---
Judith (Judy) Repplinger (1940 - 2012)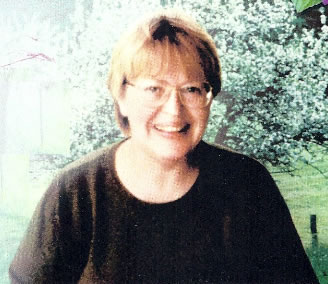 "Faith learns how to receive all that the Lord gives with..." - Carol and Len Harms
Judith May Miettunen Repplinger May 19, 1940 - July 5, 2012
TUALATIN - Judith (Judy) was welcomed into heaven by her Lord on July 5, 2012. She was born on May 19, 1940 in Oregon City to Elsie Doris Robarts & Ray A. Miettunen, the second of three children. She grew up in the small community of Yoder, Oregon, where many of her relatives lived, & graduated from Molalla High School in 1958. She graduated from Willamette University in 1962 with a B.A. & Alpha Lambda Delta honors, & she also attended continuing art education classes at Oregon College of Education.
Judy was an art teacher at Salem's Waldo Junior High for two years before having children & becoming a stay-at-home mother & farm wife. She was married to Donald L. Repplinger from 1962-2009. She served as a volunteer at the State of Oregon Library for the Talking Books & Braille Service, a Postal Clerk for the U.S. Postal Service, & worked at Edelweiss Perennials.
She was a long-time member of Trinity Lutheran Church in Sheridan where she considered many of the members as her extended family. Among her hobbies were baking, gardening, drawing, painting, photography, singing, rockhounding, & researching genealogy, especially her Yoder heritage. She loved to travel locally and internationally, & recent journeyed to Africa (Mafia Island) to safari, help inoculate cattle & help fund raise for a water well for school children.
Above all, Judy genuinely loved people, regularly opening her heart & home to others. She was a beloved mother, grandmother, & friend. She is survived by her children: Laurie (Repplinger) & Roy Widing, Victoria (Repplinger) & Urs Baltensperger, John & Connie (Hatcher) Repplinger, Linda Repplinger & Ken Labor, as well as two sisters, Muriel van Veen & Nancy Dilger, & eight grandchildren.
A memorial service for the celebration of Judy's life will be held at the Trinity Lutheran Church, 311 Southeast Schley Street, Sheridan, OR 97378, on Thursday, July 26th at 11:00 a.m. with a reception following. Pastor Eugene Ludwig will conduct the service. Judy's remains will be laid to rest with her parents & extended family at Smyrna Church Cemetery in Yoder, Oregon. Judy once wrote, "While I can't solve the world's problems, maybe I can help to get a well." In memory of Judy, financial donations may be given to the World Vision Water Well Project (donate.worldvision.org).
Reprinted from the obituary published in StatesmanJournal on July 18, 2012