Addis Lydia (Frick) Reppeto
---
Addis Lydia (Frick) Reppeto
March 26, 1927 – May 14, 2014

A memorial service to celebrate the life of Addis L. Reppeto, 87, of Coos Bay, will be held on Sunday, May 18th at 1:30 p.m. at the First United Methodist Church, 123 Ocean Boulevard in Coos Bay, with Reverend Laura Beville presiding. Light refreshments will follow in the church fellowship hall. Private cremation rites were held at Ocean View Memory Gardens in Coos Bay.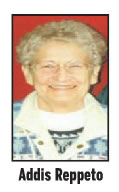 Addis was born on March 26, 1927 in Molalla, Oregon to John Frick and Ruth ( Gillham ) Frick. She passed away peacefully on May 14, 2014 in Coos Bay.

Addis grew up in Molalla. She earned a Bachelor's Degree in Home Economics from Oregon Agricultural College in Corvallis ( Now Oregon State University ). This is where she met Henry "Hank" Reppeto. They were married on September 4, 1949 in Liberal, Oregon and moved to Coos Bay around 1950, where Hank began working for Weyerhaueser. They would later build their home from the ground up, all by themselves. It would be the home that they raised their family in and would live for the remainder of their lives.

Addis volunteered at the Coos Bay Library for many years. She worked with the Garden Club and was a member of the Stitchery Guild, the Home Extension Service and the United Methodist Women. She was a longtime member of the First United Methodist Church and even helped build the existing church. She assisted with many of the church weddings, taught stitchery classes and did some upholstery work for others as well. She also taught many adult women how to drive so that they could be more independent…..she was a bit of a feminist!

Addis loved to work in her garden, especially her flowers. She loved traveling in her fifth wheeler to fish the Rogue River with her husband and friends. She loved her Japanese maple out front of her home and created starts from it, many of which are growing in yards around the area now. She enjoyed music and liked to go to church early so that she could sit and listen to the church choir practice.

Addis is survived by her daughter, Ruth Reppeto of Massachusetts; granddaughters, Karen and Alysia; great grandchildren, Jason, Verity, Rowan, Lilith and Gwenith; Nieces, Shirley and Lois; and nephews, Dan, Jim, Larry, Floyd, Mel and Ralph.

Addis was preceded in death by her parents, Ruth and John Frick; husband, Henry "Hank" Reppeto; and son, Paul Reppeto.

Memorial contributions may be made to the Coos Bay Lions Club, P.O. Box 3, Coos Bay, Oregon 97420. Friends and family are encouraged to sign the online guestbook at www.coosbayareafunerals.com and www.theworldlink.com. Arrangements are under the care of Coos Bay Chapel, 541-267-3131.