Jean Rodden Peterkin
---
Jean Rodden Peterkin died at the age of 87 in Molalla, Ore. on August 15, 2012.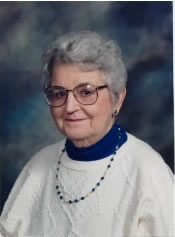 Jean was born March 21, 1925 in Portland, Ore. to John Duncan and Jean Robson Peterkin. She had one brother, John William Peterkin, Sr. She had been a resident of Molalla since 1929. She worked for many local companies, including the City of Molalla, as finance director, retiring from there in 1990. Jean was active in Molalla Historical Society, Molalla Senior Center, United Methodist Church and the Molalla High School Alumni, among many others.

Jean is survived by nephew, John W. Peterkin, Jr. and wife, Annie; niece, Starlie Peterkin and husband, Doug; 11 great nieces and nephews and nine great-great nieces and nephews. She is proceeded in death by her parents, John and Jean Peterkin; brother, Bill and Dolores Peterkin, Sr.; and nephew, Roy Peterkin.

Viewing will be held on Tuesday, Aug. 21and Wednesday, Aug. 22 at the Molalla Funeral Chapel 10 a.m. to 5 p.m. Services will be held on Thursday, Aug. 23 at the Molalla Methodist Church at 11 a.m. with a potluck following. Graveside services will be held at Adam Cemetery at 10 a.m. Thursday, Aug. 23.

Arrangements entrusted to Molalla Funeral Chapel. Please sign guestbook at www.molallafuneralchapel.com.