Dean Maxson Muffett
---
Date of birth - December 3, 1953
Date of death - August 15, 2019
Dean Maxson Muffett Dean Maxson Muffett was born on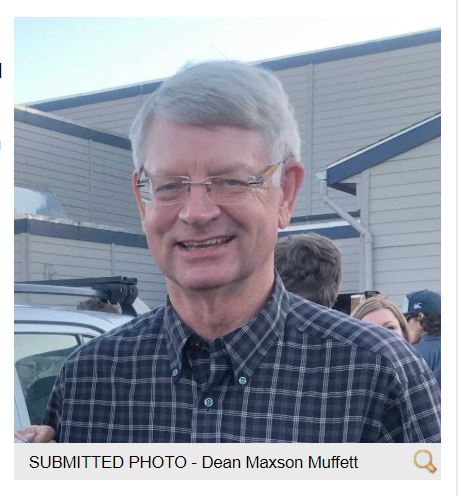 December 3, 1953 in Oregon City to Winfield and Ona Knudtson Muffett. He passed away on August 15, 2019. He was raised in Colton and Molalla, graduating from Molalla High School in 1972. Dean received his Bachelor's Degree from the University of Oregon in 1975 and his Master's Degree in Computer Science in 1987.
Dean married Jane Bystrom, his high school sweetheart, on June 9, 1973 at Grace Lutheran Church in Molalla. They celebrated 40 years together before Jane's passing in 2013. Over the years, they made their home in Reedsport, Eugene, Richland, WA and North Bend. Dean worked as a computer programmer for Battelle for several years, but his lifelong work was on his tree farm, which he built through decades of hard work and thoughtful planning. Dean and his brother John were chosen as Coos and Curry County Tree Farmers of the Year and later he and Jane were also selected as Coos County Tree Farmers of the Year in 2011. He was an active member of Beautiful Savior Lutheran Church in Reedsport and a longtime member of Oregon Small Woodlands Association.
Dean was a devoted husband, a loving and supportive father, grandfather, brother and uncle and had recently found new love and happiness with his fiance, Tammy. He was often reserved, but had a silly sense of humor that came out in his writing and story-telling. Dean put his best effort into all his work and his hobbies. When work needed to be done, he took on the job and if he didn't know how to get the job done, he would learn. He enjoyed reading, gardening, fishing, poker, wine tasting, wood working and just perusing his land, enjoying the outdoors. He is truly and dearly missed.
Dean is survived by his daughters and sons-in-law Anna and Jason Warner of North Bend, and Beth and Aaron Real of Sterling, MA; son Leif Muffett of North Bend; grandchildren Everitt, Ella, Calvin, Chris, Clara and Jacob; fiance Tammy Laird of Coos Bay; sister and brother-in-law Christine and Chuck Calley of Coquille; brothers and sisters-in-law Winfield and Hjordis Muffett of Beavercreek, Robert and Sharon Muffett of North Bend and John and Rose Muffett of Reedsport. He was preceded in death by his wife Jane and his sister Nancy Heiligman.
A memorial service and private cremation rites have been held.
Services are entrusted to Dunes Memorial Chapel, 541-271-2822. Memorial donations may be made to Beautiful Savior Lutheran Church.