Macy Elaine (Elkins) Morse
---
Date of birth - January 25, 1921
Date of death - July 18, 2019
Peace activist from Molalla has her last dance When Molalla's Macy Morse wasn't fighting for peace, she liked to dance and make music.
Macy (Elkins) Morse was born in Molalla, which is where she developed her sense of helping others, something she carried on throughout her life. When Macy Morse wasn't fighting for peace, she liked to dance and make music. She learned the Charleston at age 5, played the piano for the Molalla Methodist church services at age 9, and practiced Martha Graham style modern dance in college.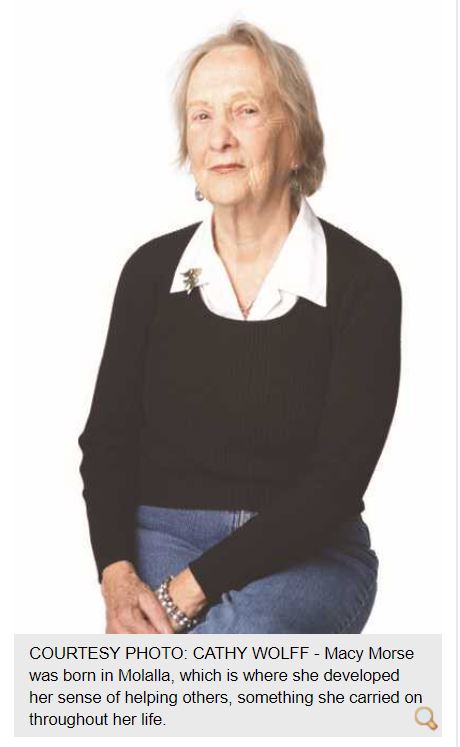 (More photos at the bottom of this page.)
At 73, Macy danced on top of a picnic table in Russia to celebrate a peace organization she launched at the request of Greenpeace. "How do you have any fun if you don't dance?" she frequently asked.
Macy (Elkins) Morse died July 18 in Hudson, NH, in the home of one of her children. She was 98 and left a legacy of more than 60 years of political activism, including at least 10 arrests and four jail stints for acts of nonviolent civil disobedience. She also left a blood legacy as mother of 13 children, 27 grandchildren and 24 great-grandchildren.
She was born in Molalla, Oregon in 1921. Her mother, Nina, taught school and her father worked at Dicken's, a general store. They also had a small farm and were known for being generous with their food during the Depression.
Taking unpopular stands may have run in the family. Luther Elkins, Macy's great-great-grandfather – who came as a pioneer from Maine to Oregon territory in the 1840s -- helped write the state's constitution and was the first president of Oregon's senate. He cast the deciding vote in 1861 on the question of secession (he voted to stay with the Union); quickly followed by his effigy being burned – and hung.
Macy attended Oregon College of Education and then moved to Portland where she worked for the telephone company.
She liked to tell the story of meeting her future husband one afternoon in 1943 when she returned to her apartment from a Catholic catechism class (Macy decided to become a "Cath," at least in part because the priest was so "cute.")
She slipped off her shoes and took a running slide into the living room, proclaiming with a wave of her arms: "I know what a saint is!" And there sat an attractive stranger, Paul Morse, a Navy friend of her cousin Roger. "We only knew each other five weeks when we decided to get married," said Macy. "But I was worried the priest would think that wasn't long enough so I said six weeks when he asked."
Paul, Macy and their first seven kids moved in 1953 to Nashua, NH, Morse's hometown. He worked (deleted , on and off) for the railroad and Macy threw herself into Democratic Party politics, starting with John Kennedy's presidential campaign. She helped deliver Nashua's traditionally Republican third ward for John King, the first Democrat elected governor since the 1920s. And she worked her heart out for Eugene McCarthy in 1968.
She was a delegate to the Democratic Convention in Chicago that summer. But Macy was disillusioned with the party's support of the Vietnam War and soon turned to direct protest, a path of activism that would shape the rest of her life.
Her husband died suddenly in 1971 at age 50. Nine months later, Macy, inspired by a photo of the Alps on an oil company calendar, rented her house and, with five of her children, age 9 to 16, headed to Europe, settling into Crete, Greece. They returned to Nashua nine months later.
Macy worked for the local Learning Center and food co-op. When a work colleague was unable to accept a Fullbright scholarship for a trip to India, Macy went in her place, a trip that, among other things, introduced her to Mother Teresa and yoga.
Her political interests also led her to Nicaragua, Guatemala, England and, in 1991, Moscow where she attended a Greenpeace conference on nuclear navies. By then she lived in Portsmouth, and, at Greenpeace's request, formed The Portsmouth- Severodvinsk Connection. Both cities depended economically on nuclear submarine yards.
Student and adult exchanges followed.
Over the years Macy was arrested in Washington DC for spray-painting the Pentagon and pouring blood on Gen. Alexander Haig's office carpet; in Massachusetts for vandalizing weapons at an AVCO plant; in Connecticut for protesting a nuclear submarine; and in New Hampshire several times for protesting construction of the Seabrook nuke, as well as sitting in at a senator's office in protest of the Iraq War. She was friends with Pete Seeger, Daniel Ellsberg and, especially, the Berrigan brothers.
Macy organized a group to keep track of nuclear waste leaving the Portsmouth Naval Shipyard. She attended weekly peace vigils and organized the New Hampshire Women's Peace Network, as well as annual memorials to Hiroshima and Nagasaki. And she kept practicing yoga, dancing and playing the piano.
Although her children say she never pushed them to be politically active, she said she hoped she served as a model. Maybe she did. Once, while handing out leaflets to a disarmament rally, her 10-year-old granddaughter, Amy, quietly said: "When you die, grandma, I'll take over."