George Carl Mohr
---
George Carl Mohr was born to Violet Ruby and Jake Mohr, on June 28, 1955. He passed away Dec. 28, 2016. George lived in Molalla, Ore., with his grandparents, George and Maudie Martz.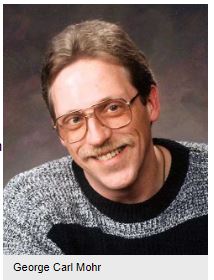 He attended Molalla Grade School and Molalla High School, with his lifetime friend, Keith Swigart.
He leaves behind his beloved wife of 25 years, Lori; son, Justin and his wife, Amanda; grand­children Jacob and Kylie; and brother Gray Benson.
A Celebration of Life, with George's family and friends, will be held at 1 p.m. on June 24, at Molalla Moose Lodge, 419 Eckerd Ave., Molalla, Ore., 503-829-8683.