Sylvia (Moe) Huck
---
Date of birth - May 14, 1922
Date of death - April 10, 2012
Sylvia C. "Moe" Huck, 89, passed away April 10, 2012, in Klamath Falls, Ore.
She was born May 14, 1922, in Monitor, Ore., and grew up there along with two brothers and a sister. She graduated from Saint Mary's School of Nursing in Astoria, Ore., in 1944.
Sylvia married Gilbert Huck on March 12, 1945, in Silverton, Ore. They moved to Klamath Falls shortly after.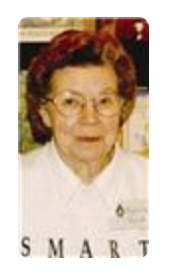 She chose to raise her five children and, although she chose not to pursue a nursing career, she was called upon to use her nursing skills throughout her life to assist others.
Syliva had a deep faith in the Lord and expressed that through her service to others. Upon her arrival in Klamath Falls, she joined Klamath Lutheran Church and remained a devoted member in the church. Areas of service included Sunday school superintendent, food pantry, church council, mentoring confirmands, quilting, choir, lefse as well as coordinating many other areas of church service. Many in the congregation fondly referred to her as "Mother Superior."
In addition to her love for God, she took great joy in her love for her family. She especially enjoyed spending time with her grandchildren and took each one on their own trip on the train with her. Not only did she raise her own children, but she also had a hand in raising her grandchildren, great-grandchildren, and many of her friends.
In more recent years, she was very passionate about watching the Seattle Mariners and Portland Trail Blazers. Survivors include her sons Darrell Huck and wife Arlene of Eagle Point and Greg Huck and wife Roxanne of Klamath Falls; daughters Cheryl Brown and husband Hap of Klamath Falls, Janet McCauley of Oregon City, and Barbara Huck of Salem; 13 grandchildren; and 10 great-grandchildren. She was preceded in death by her husband Gilbert, two brothers, a granddaughter, and a great-granddaughter.
Funeral services will be at noon Saturday, April 14, in Klamath Lutheran Church followed by a reception. Contact Ward's Klamath Funeral Home (541-882-4404) for view time.
Memorial donations may be sent to Klamath Lutheran Church, 1175 Crescent Ave., Klamath Falls, OR 97601.
Published in Herald And News on Apr. 13, 2012