Nancy C. Milke
---
Nancy C. (Kirby) Milke
Nancy was 82. She was born November 09, 1929 and passed away April 20, 2012.
Nancy C. Milke was on the eve of fulfilling a lifetime wish of living on the Oregon Coast when she died of an unexpected illness.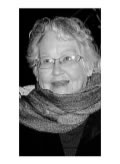 She was born in San Francisco. She grew up in Oregon and graduated from Molalla Union High School. She attended Lewis and Clark College, leaving before completing her program to marry Paul Milke, who preceded her in death.
While raising her family, Nancy started a career with Good Samaritan Hospital in the radiology department which lasted 35 years.
Nancy enjoyed people, good times and left this world with dignity and cheerful spirits.
Nancy is survived by her children, Janice Winkel of York, S.C., Scott Milke of Scappoose; granddaughters, Amy Molina of Las Cruces, N.M., Brooke Milke of Milwaukie; and three great-grandchildren. Her grandson, Jon Dunnavant, preceded her in death in 1988.
There will be no services, at her request. Donations can be made to a charity of your choosing.
Published in The Oregonian on April 24, 2012