Beulah "Boo" Ellen (Keeton) Meyerhoff
---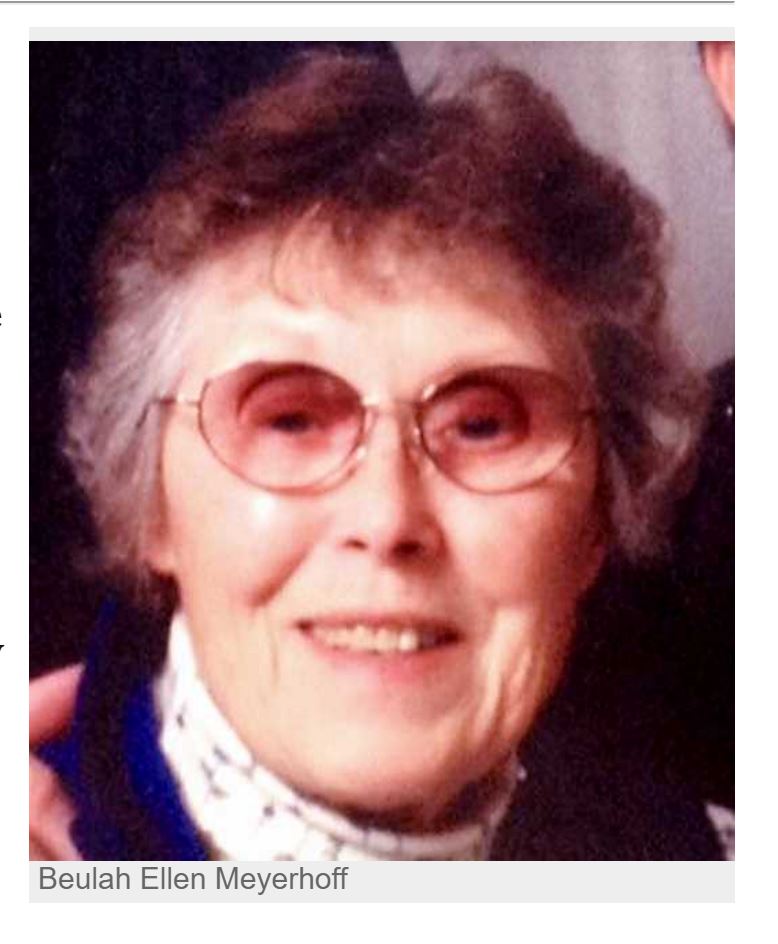 Beulah

"Boo" Ellen Meyerhoff (Keeton) died Sunday, June 26, at her home in Silverton, Ore. She was 90 years old.

Born in San Diego, Calif. on Nov. 21, 1925, to Francis and Mabel Keeton, she moved with her family to Mulino, Ore. in 1938. She graduated from Molalla High School in 1943 and later returned to San Diego, finding employment at North Island Naval Air Station. There she met Frank Meyerhoff, whom she married in 1947, and gave birth to Gary Wayne in 1950 and Roger Dean in 1952. For the next 20 years, the family lived in La Mesa, Calif. In 1969, she rejoined the work force, this time at Miramar Naval Air Station. With both sons married and raising families, she returned to Oregon in 1980 and worked in Portland for Civil Service, Department of Interior, until retirement in 1987. She lived almost 30 more years at her beloved home in Silverton, embracing her family and her cherished pets.

Survivors include; brothers Dorval Keeton, of Yucaipa, Calif., and John Keeton of Gladstone, Ore.; sister, Loretta Devers of Hodgenville, Ky.; sons, Gary Meyerhoff, of Oceanside, Calif. and Roger Meyerhoff, of Indianapolis, Ind.; grandchildren, Erik, Brandon, Kevin, Karen, and Andrew Meyerhoff; and great-grandchildren, Carson, Zachary, Justin, Ethan, Sofia, Caius, and Marin Meyerhoff.

A memorial service will be held at 4 p.m. on Sat., July 23, at Unger Funeral Chapel, 229 Mill Street, Silverton, Ore.