Irene Mildred (Eyman) McMullen

December 8, 1923 – April 20, 2013

Irene Mildred Eyman McMullen died, after an extended illness, on April 20, 2013 at Hillside Manor Memory Care Facility, McMinnville, Oregon, with family at her bedside. She was 89.
She was born Dec. 8, 1923, to Fred and Mamie Eyman at Rural Dell, Oregon.
She was raised on the family farm near Rural Dell. She graduated from Molalla Union High School in 1942.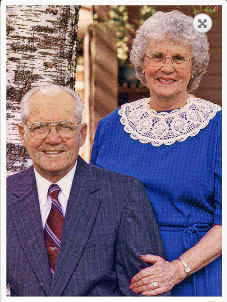 She married Elmer McMullen on Nov. 21, 1943, and together they had nine children, all of whom are still living. Elmer died in 1994, shortly after their 50th wedding anniversary, and Irene never remarried.
More than anything, Irene loved children. She devoted her life to her ever-expanding family. She was a member of Amity Christian Church.
In addition to her husband, Irene was preceded in death by her parents and three sisters. Her surviving children include David (Florence), Donald (Linda), Donna (Ron) Palmondon, Darrel (Beverly), Dennis (Fredi), Duane (Christine), Dean (Mary Anne), Diane (Allen) Aschim and Douglas (Judy).; 20 grandchildren; three step-grandchildren; 35 great-grandchildren; and six step-great grandchildren.
A memorial service was held at 11 a.m. Saturday, April 27, 2013 at Amity Christian Church, 1305 Goucher St. in Amity, with interment to follow at Amity Cemetery. Memorial contributions may be made to Amity Christian Church. To leave online condolences, visit www.macyandson.com.
Reprinted from the on-line Molalla Pioneer, Published: 4/23/2013.