Kathleen R. (Swartout) Matovich
---
Date of birth - July 2, 1923
Date of death - June 7, 2020
On the evening of June 7, 2020 an extraordinary lady, Kathleen Rose Matovich, slipped away peacefully in her assisted living home in Woodburn, OR. at the age of 96 from congestive heart failure. She had been surrounded by family for her past seven days. She was born July 2, 1923 in Marquam, Oregon to Charles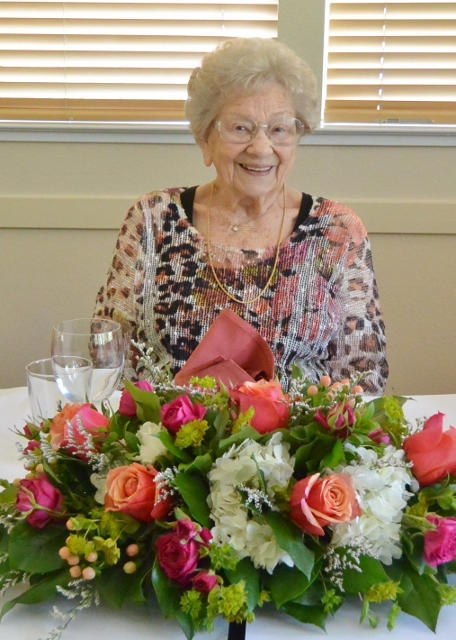 and Pauline (Panter) Swartout who migrated to Mt. Angel, Oregon by rail in 1910 from Mankato, Minnesota. Charles purchased property at Marquam in 1911 and moved his family out to the farm, which is still home to the Swartout family.
Katy's family grew up on their Century Farm at Marquam, Oregon. She attended grade school in Marquam, and her first two years of high school in Silverton, Oregon. The family was informed the school bus would not pick up students in that area, so she transferred to Molalla High School where she graduated in 1941. As a child she was always taught the value of the dollar. The children all worked hard and were taught how to be responsible young people. They helped care for their brothers and sisters, picked hops and worked on the farm until they moved away from home. Shortly after graduation she went to live with a friend in Portland and began her studies at Behnke-Walker Business College. She attended school for a few months, learning accounting practices. When Fred Meyer came looking for someone to work in their store on 5th Ave. in downtown Portland, Katy was hired. She started out by delivering mail to everyone, which was the lowest paying job they had. They liked her work habits so they sent her back to school to learn more about accounting and she started working in the Accounts Payable Department. After finishing her shift in the office she worked in the evening in the Candy and Tobacco Department as a cashier.
In 1941 when Katy was a senior in high school, her friend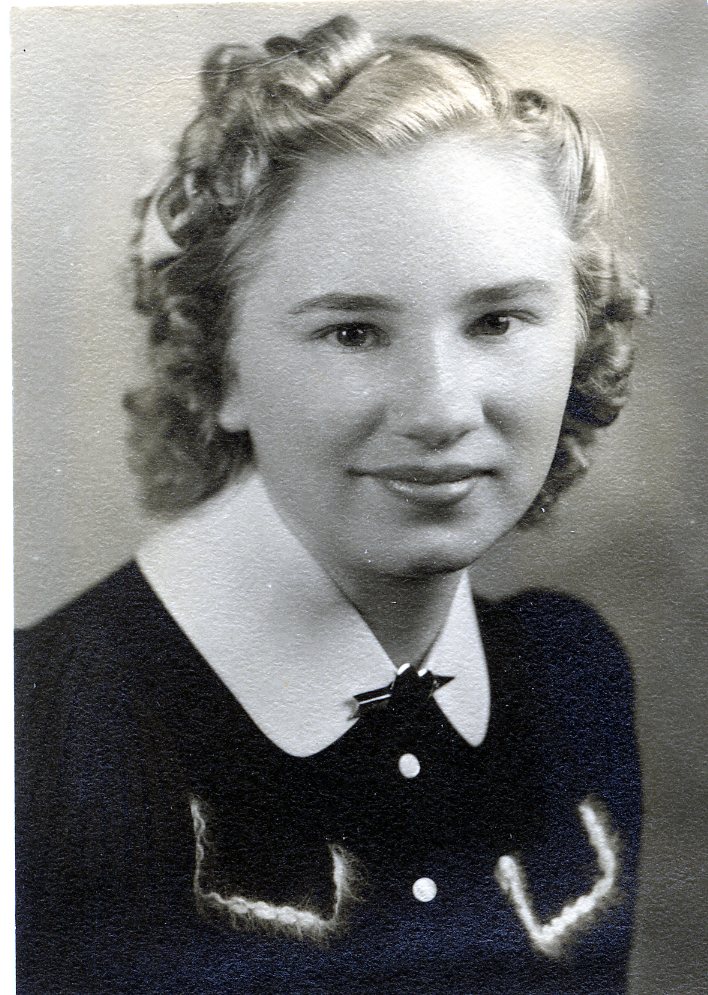 Bernice Matovich, introduced her to her brother Peter. Their friendship didn't blossom until a few years later. On Sept. 3, 1947 she married Peter Joseph Matovich from Molalla, OR. Katy then went to work for CPA, Gib Wells in Public Accounting in Molalla; she heard of an opening at Molalla Forest Products and applied for a job with them. They told her "if you can balance our checking account, we'll hire you". We all know the answer – she was hired!
In 1954 Pete and Kathleen moved to Cloverdale, California bringing Pete's dog "Blondie" with them. Katy worked for Molalla Forest Products (who was later bought out by Masonite), Cloverdale Timber Co. and Cloverdale Redwood as an Accountant.
Pete was a real estate broker in Oregon, then obtained his California real estate broker's license and started PJ Matovich Real Estate in Cloverdale, CA. In 1966 Peter and Kathleen divorced and she moved to the north side of Santa Rosa, CA into a townhouse in an enchanting hilly wooded area, Wikiup Greens Golf Community. In her beautifully fenced and gated patio and garden area she grew roses, geraniums, begonias and anything else that would endure the California heat and that had a blossom on it. She even had a Meyer's lemon tree in a large pot along with several tomato plants. Pete and the crew that worked for Katy's employer, James Laier, always made sure she had plenty of wood in her wood box over the years. She quickly made many new friends in the area, was treasurer for her Homeowners Association, organized many a pool party at their neighborhood pool, worked long hours at her job as an accountant and she played hard. She was a member of the Marquam Methodist Church and the Rebekah Lodge, Independent Order of Oddfellows for over 70 years.
Molalla Forest Products had merged with Masonite Corp. and Katy continued working for them. After several years she retired from Masonite and continued working for James Laier. She retired in 1998 after more than 50 years of working for him.
She loved cooking and had an eye for the best food and a knack for using an array of spices in her cooking, fresh abalone being her favorite.
Katy was able to build a second home at Dillon Beach (west of Petaluma, CA) overlooking the ocean. She was always willing to share her home with family and friends, who spent many holidays and summer vacations at the beach. Our motto was: "What happens at Dillon Beach, stays at Dillon Beach!"
Kathleen enjoyed the privilege of being addressed by numerous names. She was "Aunt Katy" to her many nieces and nephews, but most of her friends knew her as "Kathy". In her professional life, she was "Kathleen". To those she socialized with in the evening, she was called "Ni-Cad", which referred to nickel cadmium battery, a high quality rechargeable battery. It decreases little until nearly the end of its discharge. She would be playing a competitive round of Pinochle or Craps, then suddenly she would ask someone to take over her spot in the game and she would slip quietly to bed. This is the way Katy ended her game of life. With a niece and nephew by her side she slipped away peacefully and quietly to be with her beloved family.
When I say that Katy worked over 50 years for the same employer, it sounds like all she did is work. She also played hard, but it was well earned! She has traveled every state in the U.S. except two. She's was in 7 Canadian Provinces and 22 states in 45 days on one of her "Day Tripping" excursions. She drove a golf cart for world famous golfers while living in her condo in Palm Desert; she experienced Broadway musicals, plays, musicians and vocalists. She traveled to Nova Scotia, Austria, Switzerland, Australia, Spain, England, Mexico, Costa Rica, Italy, and France. Among her many cruises she cruised from San Francisco around the Hawaiian Islands and back to US Mainland, the Mexican Riviera, Caribbean and Mediterranean Seas.
In Katy's later years, she traveled extensively with her "Day Tripping" group of senior friends on a customized bus equipped with a bathroom and tiny kitchenette. Katy's socializing didn't stop with her travels. She had her pool table and her crap table in her game room and taught her grandnieces and nephews how to win at the game! Her passion was her regular pinochle games with her friends at her dining room table. Have you ever played pinochle with Katy? She is a "mean" strategist and has racked up a record of winning an awful lot of rowdy games. She looked forward to traveling to Oregon for semi-annual Swartout Family Reunion.
Katy brightened everyone's day with her smile, even on their dullest day. Her welcoming words, delicious foods and tantalizing drinks she prepared, brought many a friend to her home for an evening of fun. She is also remembered by her extensive family and endless list of friends. Katy was elegant, stylish, kindhearted, intelligent, and a hardworking woman anyone could rely on.
Kathleen was the last of her generation and the baby girl of the family of 11 children. Her brothers and sisters preceded her in death: Thelma Fread, Marcella McEwen, Elsie Wolfe, Medora Wright, Howard Swartout, Eunice McEwen, Hazel Wolfer, Jeanette Swartout, Charles Swartout, and Clifford Swartout. She outlived all of her siblings. Her sister-in-law Betty Swartout survives her, as well as numerous nieces and nephews, their spouses and significant others.
Katy had no children of her own, but she had a special bond with all of her nieces and nephews and their spouses. In her final years of her life her two nieces, Sandi Bean of Silverton, OR and Judi Aus of Canby,OR unselfishly attended to Katy's care. She wanted to come home to Oregon for her final days so they moved her March 2, 2020 to an assisted living facility in Woodburn, OR and shortly thereafter, the facility was in lock-down due to COVID-19 pandemic, which was heartbreaking to her and all of us.
Due to the Coronavirus pandemic, a private family burial will be held at Maplewood Pioneer Cemetery in Scotts Mills, Oregon near her parents, siblings, and numerous nieces and nephews.
There will be a Celebration of Life at a later time. Memorial donations may be made to a charity of your choice in lieu of flowers.
Arrangements are by Unger Funeral Chapel, 229 Mill St., Silverton, Oregon 97381