Anita L. Marson

September 28, 1941 - April 13, 2013

SALEM - Anita Marson passed away on Saturday April 13th after a brief illness. Anita was born in Canby, Oregon and was the youngest of seven children born to Albert and Anna Marie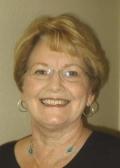 Lawrence. She graduated from Molalla Union High School and in 1960 Anita married John Marson. Together they had 2 daughters, Kristi and Debbi.

Anita was an independent business woman for most of her life. With her former husband John, they owned and operated 2 grocery stores. Over the last 15 years, Anita has owned Bowser's Pet Grooming at three locations around Salem, most recently in West Salem. Anita loved to go dancing, bowling; she followed high school sports and was a special friend to many.

She is survived by her daughters, Kristi (Doug) Austin of Olympia, WA and Debbi (Richard) Montgomery of Salem, OR; Longtime sweetheart, Bob Smith and honorary grandmother to Bob's grandchildren, Kye and Mara. She is also survived by her former husband John Marson of Salem and many nieces and nephews.

Visitation will be on Friday, April 19th from 4 to 8 PM, A funeral service will be held on Saturday, April 20th at 12:30 pm all at City View Funeral Home. Interment will be in Adams Cemetery in Molalla, Oregon. In lieu of flowers charitable contributions may be made to the American Cancer Society or Humane Society of Willamette Valley. Arrangements are by City View Funeral Home.

Published in StatesmanJournal from April 17 to April 18, 2013