Jacob Reed Marshall
---
Jacob Reed Marshall
Date of birth April 14 1993
Date of death January 2 2016
Jacob Reed Marshall died Saturday, January 2, 2016 in Welches, Oregon at the age of 22.
Jacob was born April 14, 1993 to Jeffrey and Jill (Garner) Marshall in Portland, Oregon.
"We will celebrate the life of Jake Marshall, even as we grieve his loss. Join with the Marshall Family and Jake's countless friends at Clarke's Elementary School this coming Saturday, January 9, 2016, at 1:14pm.
Jake was an unconventional guy - in his honor, this service of worship, remembrance and celebration of life will also be unconventional. Hence, our start time will be 1:14pm."
Arrangements entrusted to Canby Funeral Chapel www.canbymolallafuneralchapel.com
---
Clarkes community pays respects to Jake Marshall

Reprinted from the Molalla Pioneer, Sunday, 10 January 2016. Written by Jim Beseda

A standing-room-only crowd filled the Clarkes Elementary School gym Saturday afternoon to celebrate the life of Marshall, the 22-year-old free spirit and former standout wrestler at Mola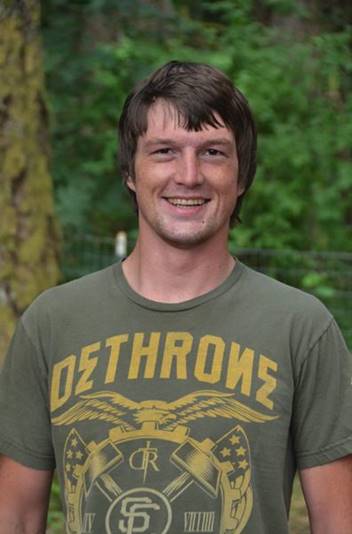 lla High School who died Jan. 2 after a car accident on Highway 26 in Welches.While remembering Jake Marshall, former Olympic wrestler and UFC fighter Chael Sonnen said he "never really thought of Jake as a kid."
"He was always a young man," Sonnen said. "He was always somebody who if he looked you in the eye and he told you something, you could count on it.
"Jake was better than a lot of the men that I know. He was responsible, he was on time, he was hard-working, he was goal-driven. He wasn't afraid to tell people what he wanted to do, and then he'd go out and work for it."
Sonnen was speaking inside the Clarkes Elementary School gymnasium in Mulino where a standing-room-only crowd gathered Saturday afternoon to pay tribute to the 22-year-old Marshall, who died Jan. 2 in a late-night traffic accident on Highway 26 in Welches.
Jacob Reed Marshall was born on April 14, 1993.

Jacob Reed Marshall
He graduated in 2011 from Molalla High School where he was a four-time state qualifier and a two-time OSAA Class 4A wrestling runner-up for the Indians.
After high school, he enjoyed some success as a regional mixed martial arts featherweight fighter. He also worked as a foreman for Legacy Wireless Services in Clackamas, building, upgrading and maintaining Portland-area cellular sites.
"I'd love to tell you guys that Jake was the nicest guy I ever met, but it just wasn't true," said Sonnen, one of several coaches who worked with Marshall at the All-Phase Wrestling Clubs in Canby and West Linn. "He was very ornery.
"That's the thing when you grow up a Marshall. His dad was a tough guy. His uncles are tough guys. His cousins are tough guys. His sister comes and makes sure he's doing the right thing. His mom is in his corner. The line for intensity gets very blurred when you're a Marshall."
Tables set up along one side of the gymnasium were filled with family pictures and assorted personal memorabilia that included several MMA belts, dozens of wrestling medals, old wrestling shoes, a bike, a skateboard, a snowboard, a green-and-black 'Lil Monster' banner, and his Legacy hard hat and work gear.
Saturday's celebration of life was scheduled for 1:14 p.m. — an unusual start time that Rev. Lorin Darst of Macksburg Lutheran Church in Canby explained was meant as a tribute to a young man who often marched to the beat of a different drummer.
Darst also told the crowd that at the same time Saturday's service started, the bells at his church 11 miles away were ringing 22 times.
"You all know that Jake was an unconventional guy, right?" Darst said. "He did things his own way. He just lived life to the fullest and you knew that he was just going to go about things his own way. That's why this service is going to feel a little bit unconventional, in and of itself."
Andi Goddard, Marshall's aunt, opened the remembrance period with some of her memories of a nephew who "loved to live big."
"Jakey really knew how to play," she said. "He also knew how to work. He had an amazing work ethic. If he was going to do something, then it was worth doing, and it worth doing all the way with his whole self.
"He wrestled hard, he fought hard, he loved hard, and he fiercely took care of the underdog. When Jake was all in, he wanted you in there with him. … He had so many friends, and so many of them called him 'brother.' He could connect with just about anyone."
Clarkes classmate Trevor Martell played his acoustic guitar and sang as part of his tribute to Marshall.
Anna Russell talked about the impact Marshall had on her and others in the extremely tight-knit community.
"The overwhelming response to his death and the overwhelming amount of people that are here today are testaments to how he lived his life," Russell said. "Jake always saw the fun and excitement in life, and he was fearless in taking advantage of that.
"The world lost a friend to many, a brother, a son, a boyfriend, and an irreplaceable soul. You lit up the world, Jake, and it will be just a little dimmer without you. You will forever be missed and loved."
Goddard said one of the things that made her nephew unique was that he knew who was as a person and was happy with that.
"He knew that perfect was impossible and likely boring," she said. "It is an amazing gift to be so comfortable and confident with who you are, that you become a magnate for other people.
"You just knew immediately who Jake was when you met him. There were no games, just authenticity. Jake wanted the same for others. He wanted people to just be happy with themselves while still challenging themselves.
"He packed a lot of love and life into 22 short years."