Alma Marie (Hofstetter) Krivonen
---
Born - December 21, 1924 - Oregon City
Died - October 7, 2017 - Union, Oregon
Alma was born in Oregon City, the 2nd child of Otto and Meta Hofstetter, during the snowy month of December 1924. She grew up on the family farm located on Meadowbrook Hill and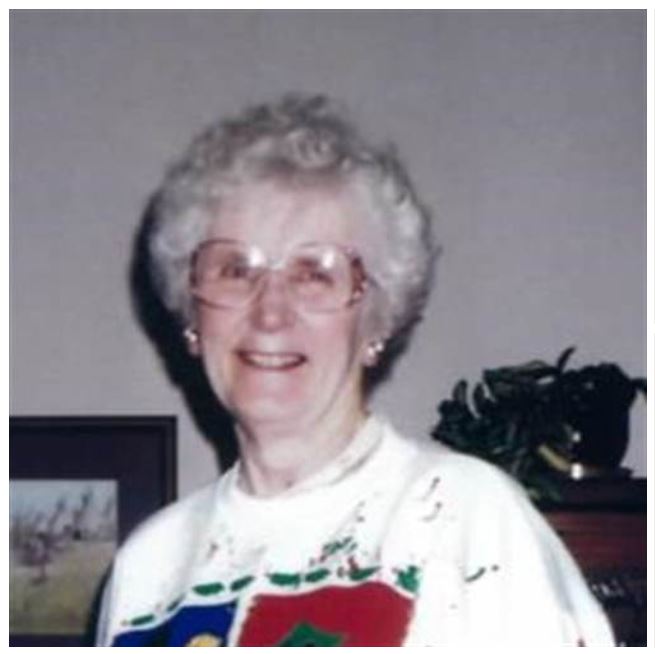 attended Meadowbrook Elementary school and Molalla High School. Alma graduated from high school as Valedictorian of the class of 1942.
She also had the honor of receiving the annual Indian Maiden award. That same year she married Arvo Krivonen and they lived in a Portland apartment and Arvo worked for Greyhound. In 1943, Arvo was inducted into the US Coast Guard and Alma followed him around the country (Oakland, Atlantic City, Baltimore, Washington D.C., Astoria) finding a job and boarding room wherever she went.
Upon Arvo"s discharge, they settled in Union Mills where they built their first home. Son Wesley was bornin 1946, followed by Susan in 1947. Alma was a full time homemaker, active school and community volunteer for 18 years.
She was active in starting the school lunch program at Union Mills School, teaching Sunday School at the Liberal EUB church, volunteering as a 4-H leader in cooking and sewing, and was very involved with the Clackamas County Home Extension Program. After Wesley and Susan graduated from high school, Alma went to work as a teacher"s aide at Molalla High School. During this time, Alma and Arvo became foster parents to a teenaged foster daughter Pat and then later to a teenaged foster daughter Patty, Untill both were married.
After retirement, Alma and Arvo enjoyed traveling throughout the USA, Canada, Europe and Mexico. They also enjoyed being with family and friends, and Alma always had some home baked goods handy to serve with a cup of tea. In 1992, They moved from Union Mills to their home in Molalla.
By now Alma and Arvo were attending Clarkes United Methodist Church and enjoyed being part of that community of believers. After becoming a widow in 1993, Alma kept busy with volunteer activities. She narrated 47 books for the blind for the Oregon State Library; worked as a volunteer aide for 5 years at the Molalla Elementary School; was part of a volunteer group with Northwest Medical Team to Oaxaca, Mexico in 2000; delivered meals on wheels one dau a week for the Molalla Adult Center for 20 years; visited the Molalla Manor Nursing Home weekly; and sang in the Molalla Community choir.
Alma also enjoyed traveling with the Molalla adult group and swimming with her friends. Alma passed away peacefully on 10/7/2017 at The Springs in Wilsonville. She was precedced in death by her husband Arvo, and two sisters Violet and Evelyn.
She is survived by her brother Don Hofstetter, children Wesley and Susan, and foster daughters Pat and Patty. Also included a numerous grandchildren and great grandchildren. Memorial service time and place will be determined at a future date.
In lieu of flowers, donations can be made to Clarkes Methodist Church or Molalla Adult Center.