Verlyn Kenneth Kraxberger
---
Date of birth - July 20 1927
Date of death - December 22, 2018
Born at home in Liberal, Oregon, on July 20, 1927, Verlyn Kenneth Kraxberger died December 22, 2018, aged 91, in the loving care of the Country Side Living, Canby staff.
Expert marble shooter, Mollala High School scholar and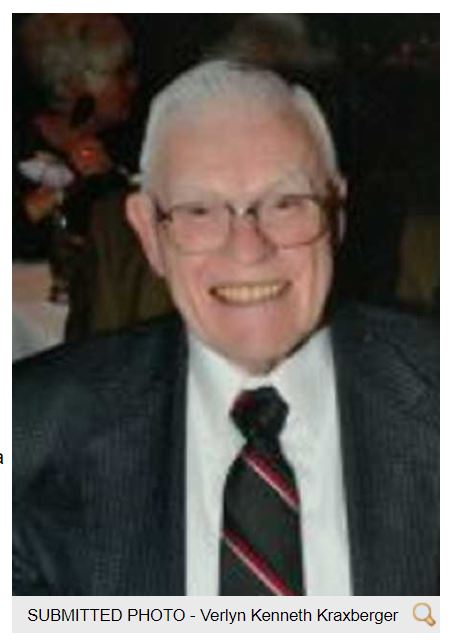 athlete, a 4 year letterman in track and field (Class of 1945), a Bausch & Lomb Science award winner and a member of Who's Who, he was six weeks too late to join the Army Air Corps in World War II.
He wanted to be an airplane pilot but respected his mother's wishes and became a Lutheran pastor instead. He attended Pacific Lutheran University in Tacoma, Washington, and attended the Wartburg Theological Seminary in Dubuque, Iowa.
He worked in an Iowa slaughter house to pay his way home for Christmas and worked on a northern Idaho wheat farm operating large combines during summers.
As a traveling intern pastor he served Washington churches of Lake Chelan, Brewster and Omak prior to graduation from seminary. He served briefly as a pastor in Seattle before returning to Omak. During this time, his daughter Vicki Lynn was born during his first marriage. He accepted a call to Wilbur Lutheran Church. Later he changed occupations to teaching and returned to Canby. During this time, he married Darline, his second and last wife, and fathered a son, James Verlyn. He and his wife celebrated 54 years of marriage November 25, 2018. He fulfilled all his vows.
He taught school for 33 years. He started teaching fifth and sixth grades, then moved to a Ackerman Middle School where he taught seventh and eighth grade science, photography, aviation and model rocketry, also coached track. He had a positive influence on students who did enter photography and aviation professions or lifelong hobbies.
Verlyn held a private pilot's license for thirty years and owned a Piper Cherokee for 25 years. He spent his life pursuing his hobbies: flying, fishing, hunting, singing barbershop, growing raspberries and Christmas trees, cruising, photography, and exploring the world with his wife Darline. He was the Kraxberger family genealogist for 20 years and publish two complete family histories during that period. On his 91st birthday, he was the oldest living male of the Franz Kraxberger branch.
He volunteered driving and delivering Meals on Wheels, Route 5, for Canby Adult Center for 20 years. He grew up in Macksburg Lutheran Church and was a longtime member in Zoar Lutheran Church, Canby.
He is survived by his wife Darline, his daughter Vicki, and her three sons, Marc, Joel and Eric; and his son James, his wife Leila and their son, Ryan. He is also survived by many nephews, nieces, sisters-in-law, and cousins.
A viewing will be held at Canby Funeral Chapel on Friday, January 11, 1 to 8 PM. The funeral will take place on Saturday January 12, 2019, 10 AM, Zoar Lutheran Church, Canby. He will be buried at Zion Memorial Park Cemetery, Township Road.
Donations can be made to the Zoar's Building Fund, to Country Side Living, Canby, to Canby Adult Center. Please note on any donation that they are in remembrance of Verlyn K. Kraxberger.
"Ich liebe dich-mein guter Mann".