Reina V. (Husbands) Holman
---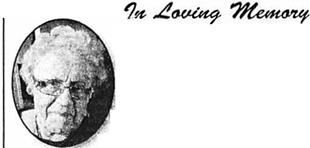 Reina V. Holman
March 13, 1922 -September 2. 2014
Reina V. Holman died September 2, 2014 at the age of 92 in Lacey Washington.
She was born March 13, 1922, to Reta and Arthur Husbands, in Baker City, Oregon.
Reina was raised on her pioneer family's homestead south of Molalla, Oregon. and attended Russellville grade school and Molalla High School.
She worked as a long distance telephone operator in Astoria during World War II.
Reina married Paul Holman, also of Molalla, and they raised their family in Molalla.
She. is preceded in death by her sisters, Loreta Seetboff and Doris Rosenow and by her son, Dale Holman. She is survived by two children, David Holman (Teresa) ofTucson. Arizona and Melinda Holman (Barnett Kalikow) of Lacey, Washington; grandchildren, Lauren Cahill, Brian Holman and Kyra DeSantos; great grandchildren, Whitney Cahill, Kortney Cahill, Leo DeSantos and Ian DeSantos: and many nieces and nephews, for whom she created lasting, loving memories.
Reina's farm background provided a deep understanding of and compassion for animals. She helped form Molalla Aid for animals rescuing dogs, cats and other animals in need. Her home was a refuge for abandoned and mistreated animals her entire life. "Animals aren't people;"she would often say. "We should treat them with respect as animals." Reina had a number of creative outlets. She painted landscapes with skill and flair, and her inventive homemade crafts and decorations made holidays special. Baking was a passion and her legendary pies and baked goods were prized as gifts.
She moved to Washington in 2009 to be near her daughter after she could no longer stay in her home on Milk Creek. She lived in Lacey, Washington her last years and continued her caretaking ways, watching out for others around her.
A Celebration of Life was held Friday, September 5, at the Molalla United Methodist Church, in Molalla. She was buried in Russellville Cemetery, which was originally a part of her family's homestead, and was donated by her family to serve the community.
In lieu of flowers, please make a donation to the Humane Society.
Reprinted from the Molalla Pioneer, September 10, 2014