Gordon Herigstad
---
September 14, 1938 ~ April 23, 2015
Gordon Herigstad passed away April 23, 2015, in Palmdale, Calif. after a brief illness, with his older brother, Don and sister-in-law Lela by his side. He was 76.
He born Sept. 14, 1938, in Woodburn, to Carl and Meta Herigstad. His father emigrated from Norway.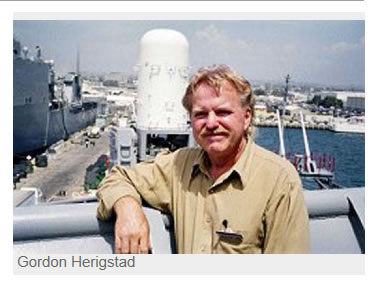 Gordon was raised in the Mulino and Molalla area, doing all the wonderful things boys do with his two brothers. Gordon learned tenacity from his Norwegian roots, which served him well throughout his life.
Gordon was an adventurous young man, who joined the Navy before completing high school, wanting to see the world, which he certainly did. He served eight years and left with the rank of First Class Petty Officer. His Navy career prepared him for eventual further sea duty with the Merchant Marine Service during the Viet Nam campaign and later on tankers and container ships. Always wanting to do more and do things better over the roughly 30 years of service, he finally retired with his First Mate credentials. Along the way, Gordon had time to pursue other interests and hobbies. Gordon had a love affair with Hollywood that continued throughout his life. He graduated from LA City College with an AA in Theater Arts. With his Robert-Redford-good-looks of his younger years, he was a card-carrying member of the Screen Actors Guild. He appeared in bit parts in films, TV and commercials, rubbing shoulders with the like of Robert Wagner and Robert Stack ("Elliot Ness"). He was also a member of the San Pedro Elks Club shooting group.
As Gordon saw the world, he taught himself how to use a computer while on board ship. As his shipmates went ashore, he stayed behind to write and study what would become his greatest interest and legacy, the 1921 Thompson gun. This enthusiasm culminated in his second book, a two-volume, 2000-page museum quality reference book that was published for distribution just two weeks ago.
His constant pursuit for details, spanning more than two decades, resulted in meeting people and making friends all around the world. He met people in such places as Ireland, UK, Norway, France, Cambodia, Hong Kong, New Zealand, Guatemala and Belize, as well as many activities and facilities in the USA. One such facility was the FBI Building, where he researched such things as the "Ma Barker" gang, Al Capone and others, pouring over 70,000 pages of documents.
A highly respected researcher, he was able to access places few had bothered. He was last seen on the History Channel's "Lost History", returning a gun John Dillinger stole, to the rightful owner, the Crown Point police department. He also found and helped deliver two more stolen Thompson guns.
Gordon Herigstad will be missed by many throughout the world, especially his many friends and family in the Molalla area.
He was preceded in death by his younger brother, Howard.
He will be buried next to his parents at Belle Passe Cemetery, Woodburn, Ore.
A memorial service will be held at a later time.