Clinton Marvin Helvey
---
May 1, 1937 - October 27, 2013
Clinton was born in Silverton, Oregon and grew up in Molalla the third of Albert & Maxine Helvey's seven children. He grew up on a farm where one of his favorite pastimes was riding the family horses. Following graduation from Molalla High School in 1954 he enlisted in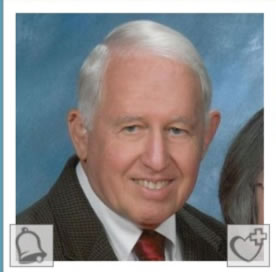 the United States Air Force. While home on leave in 1957 he married Joyce McIntyre. Upon leaving the military he returned home and settled in Portland, Oregon. He then began civilian life working for Cargill Grain and then later for Atlantic Richfield. Clinton moved his family to Milwaukie Oregon in 1962. In the mid 1970's he began working for Stoel Rives and later Schwabe, Williamson & Wyatt. In the early 1990's he went to work for OHSU in Hospital Administration until retiring in 2002.

Clinton loved to make people laugh and was well known for his sense of humor. He enjoyed traveling and took several trips with his siblings as well as a cruise with his wife. Clinton took pride in the immaculate care of his yard, pool and rose garden. His home was open to everyone; friends and family always enjoyed the pool. He loved the time spent with his grandchildren and was very involved in their lives. As a member of Kern Park Christian Church he served as a Deacon, Elder, worked with the junior high youth group, taught Sunday school, and also volunteered with Meals on Wheels.

Clinton is survived by his wife, Joyce; children, Julie Batson of Lake Oswego, Mindy Landing and husband, Brad of Milwaukie and Timothy Helvey of Milwaukie; brothers, Bruce of Molalla and Clark of Hillsboro; sisters, Irene Emmert of Molalla, Judi Gregory of Milwaukie, Lois Ray of Molalla and Kathy Marcott of Beaverton; grandchildren, Elizabeth Tanner and husband, Drew of Oregon City, Jonathan Batson of Lake Oswego, Adam Landing of Colton, Ashley Landing of Milwaukie, Hollie Helvey and Levi Helvey of Milwaukie; and one great grandson, Connor Tanner.

A visitation will be held on Thursday, October 31st and Friday, November 1st from 12:00 to 6:00 p.m.at Stehn Family Chapels in Milwaukie, Oregon. A Graveside Service will be held at 1:00 p.m. Monday, November 4th at Miller Cemetery in Silverton, Oregon. All are welcome to the Memorial Service to be held at 3:00 p.m. on Saturday, November 9th at Kern Park Christian Church, Portland, Oregon.

The family suggests remembrances in his memory be sent to Kern Park Christian Church General Memorial Fund.