Margaret Mary (Reasoner) Hartley
---
Date of birth - December 8, 1935
Date of death - November 23, 2019
Margaret Mary (Reasoner) Hartley, a long time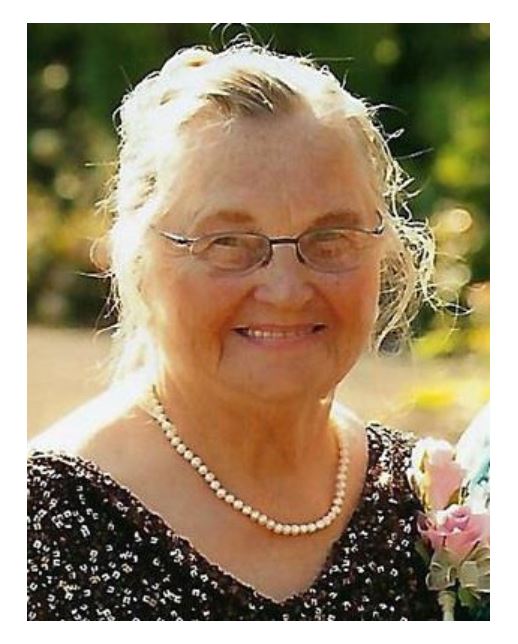 resident of Molalla, OR, went home to be with the Lord on Saturday, November 23, 2019. She had resided at Marian Estates Skilled Nursing Facility in Sublimity, OR, for the past year after several strokes and complications from breaking her neck in a fall in 2011.
Margaret was a strong and hard working woman. She had strong faith, praying and persevering through many challenges. She loved the Lord, her children, her grandchildren, and her brothers and sisters.
Margaret was born December 8, 1935, in Portland, OR to Edna (Ball) and Walter Reasoner. She and her older brother attended primary school in Portland until the family moved to Meadowbrook, OR. She was the oldest girl in a family of 12 children. She graduated from Molalla Union High School in 1953.
Margaret went on to beauty school and eventually opened and operated her own beauty salon for many years in Mt. Angel, OR.
She met and married Donnie Fleckenstein, who died from kidney failure shortly after their son, Frank, was born. Later she married (and divorced) David Hartley, and they had 4 children together.
After being a hairdresser for many years, she went on to be a single mom, day care provider, dairy farmer, college student in her 50s, and a CNA. She worked at the Benedictine Nursing Home in Mt. Angel before her retirement. Margaret enjoyed traveling and visited Europe a number of times.
Margaret leaves behind a large extended family, five children, 12 grandchildren and 2 great grandchildren. A graveside service will be held Wednesday, November 27, 2019, at 1:00 pm at Calvary Cemetery in Mt. Angel, OR.