Burt Maurice Gottwald
August 13, 1929 - October 09, 2016
---
Burt Maurice Gottwald came into this world on August 13, 1929 near Molalla, Oregon, the fourth child of Maurice L. and Katherine (Yoder) Gottwald. He was a brother to Hugh, Marie, Berneita and Genevieve. His elementary schooling was entirely in a one-room school with all eight grades.
He was a graduate of Molalla Union High School in the class of 1947. After graduating from Oregon State University with a degree in accounting in 1951, he was inducted into the U. S. Army. Basic training was in Virginia, and he was then transferred to Korea where he served in the Korean War attached to Headquarters Company of the 101st Signal Battalion. Upon completion of his tour of duty, Burt was honorably discharged on July 31, 1953.
Following his military service, he worked in the accounting profession during his working career. Those years were spent in Port Townsend, Washington, Roseburg and Tigard. He retired June 30, 1994 from the Portland Branch of the Federal Reserve Bank of San Francisco. A temporary diversion from accounting was the five years Burt and his wife Ellen owned and operated The Hubbies Gift Shop in what was then called Beaverton Mall.
During his first employment in Port Townsend, he married Ellen Baty Love in 1954. From this union a son, Michael Kevin and a daughter, Lisa Ann were born in 1957 and 1959. After forty-one years of marriage, Ellen died of pancreatic cancer in 1996. A year and a half later, Burt married Beverly Lyman Fraley, whom he had dated in college forty-seven years earlier. After seven years, Beverly died of bone cancer in 2005. One month after Beverly's death, Burt was diagnosed with esophageal cancer. Following massive surgery, chemotherapy, and radiation, he was set to fight the usual two-year fatal prognosis for this disease. Beating the odds, five years later after a series of tests, it was determined that the battle was finally won. Michael died of a rare type of pancreatic cancer in 2005.
Burt loved to travel and covered much of the United States. His favorite place was Hawaii where he and family and friends made many trips. He and Beverly discovered cruising and went to Alaska and Mexico. He made a trip with family and friends to Europe. Coin and stamp collecting were his favorite quiet time ho6bies.
Survivors include his daughter, Lisa Havre and her partner Larry Sumpter of Corvallis, daughter-in-law Mari Gottwald of Cornelius, stepson Alan Fraley and his wife Sue and daughter Hannah of Tracy, California, stepdaughters, Jennifer Fraley of Sultan, Washington and Ann Fraley of Vallejo, California, and sister, Genevieve Freeman of Mt. Angel. Burt had "grandpa" status for family friends, Jalen and Jared Baskin of Tigard from the time of their birth to their present adult status.
Burt's parents and a brother, Hugh and sisters, Marie and Berneita have preceded him in death.
Burt always belonged to a church wherever he lived and was currently an active member of Smyrna United Church of Christ in Yoder, founded by his grandparents and great grandparents 125 years ago. He served the church in various capacities including Church treasurer and treasurer and caretaker of the cemetery.
He leaves behind many relatives and friends who will miss his quiet manner and determination.
---
Burt Maurice Gottwald was born near Molalla to Maurice and Katherine (Yoder) Gottwald.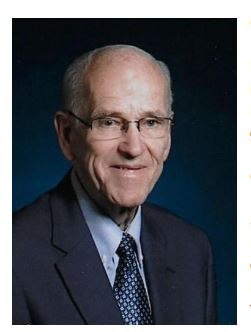 He graduated from Molalla Union High School in 1947, and from Oregon State College in 1951. He served in the U. S. Army Signal Corps during the Korean War.
He married Ellen Baty Love in 1954 and had two children, Michael and Lisa. Ellen died in 1996, and he married Beverly Lyman Fraley in 1997. She died in 2005.
He retired from the Portland Branch of the Federal Reserve Bank of San Francisco. He owned and operated a gift shop, The Hubbles, in Beaverton.
He is survived by his daughter, Lisa Havre and her partner, Larry Sumpter; daughter-in-law Mari Gottwald; stepson Alan Fraley and wife Sue; stepdaughters Jennifer Fraley and Ann Fraley; step-granddaughter Hannah Fraley; and sister Genevieve Freeman.
A Celebration of Life will be held at 11:00 a.m., Saturday, October 22, 2016 at Smyrna United Church of Christ in Canby. Donations can be made to the church's cemetery fund.
Published in The Oregonian from Oct. 14 to Oct. 19, 2016