Edward Ellis Fritz
---
Date of birth - October 25, 1927
Date of death - July 12, 2020
Born at Portland Sanitarium and Hospital in 1927, Edward lived his infant years in Lake Oswego before the family built a home and moved to Yoder. The community remains unincorporated even today, and Eddie was surrounded by farmland and old growth with Canby to the north and Marquam to the south. His parents, John and Nancy Fritz,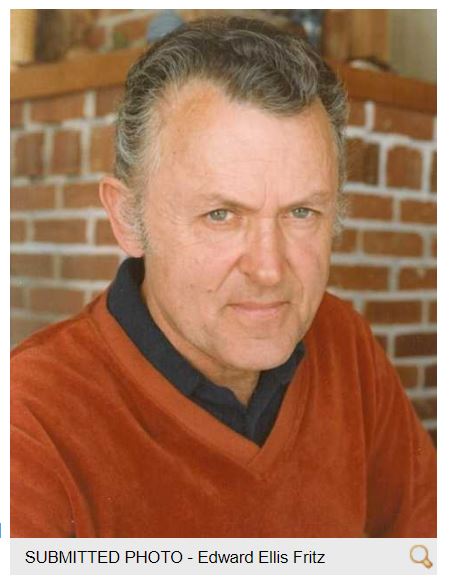 chose five acres and the house was built with fresh lumber from Yoder Mill just down the road. No plumbing, no electricity. Kerosene lamps for illumination and a threeseater outhouse - one low for children - and water from a well with a hand pump off the back porch. Wood stoves for cooking and heating, the wood being cut with a cross-cut hand saw. Occasionally neighbor John Fosmark would convert his car engine to drive the back wheel and power a saw to cut lengths of log and these were later split by hand. Ten or more cord for a year's supply. They had a milk cow, chickens and a horse whose logging camp history made him only want to work. Many a glass of goat milk did they drink. They hand-watered the large vegetable garden, raised hay, and tended fruit and nut trees. Cane and strawberries brought extra income during the depression along with selling fertile eggs, which increased the price, from their chickens.
For eight years Eddie attended a two-room schoolhouse - also with outside plumbing - riding his bike on the country road each day past Smyrna Church, the sawmill, the egg farm and Yoder Store, a mile and a half to school. The road was half gravel and half paved: one drove on pavement until meeting an on-coming car, then either one would divert to the gravel side. Yoder School, a classic structure that still stands today, was built in 1923.
By age ten Eddie had a job, and when the school day ended, he and his brother Henry cleaned and candled eggs for Tom Dybvad's Quality Eggs, which has grown into what is now Willamette Egg Farms. His parents encouraged him to save his money. He fished Bear Creek near his home for trout and caught crawdad, and knew the presence of hoot owls, hawks and other raptors in the trees. Bats lived in the barn as they liked the hay and he watched them raise their babies and caught them sometimes with his hands.
As a young boy, he and Henry used box traps to capture animals. Birds such as pheasant and quail, muskrats, chipmunks and rabbits among them were brought home as pets. Over time it grew into a menagerie but eventually, all in one day, they set them free. Ed confessed to a tear in his eye when letting loose his pet owl.
The Yoder Store, with its old-style false front, was stocked with nearly every family need and when his mom wanted items he'd retrieve them. These were depression years and everything was purchased on credit, paying monthly. He recalls the Yoder family not collecting on a great deal of debt, and sympathetic to the situation would continue to extend borrowing limits.
The town of Molalla, in Eddie's youth, was a logging center at the base of the Cascades and a somewhat wild place at the time with Saturday night dances and a fistfight or two. There were two major sawmills and smaller gypos. It was here, at Molalla High School, that Eddie participated in sports - baseball, where he played the hot spot, third base; track and field as a pole vaulter; and wrestling.
In the winter months, Eddie and his friends were known to skip school and drive to Mt. Hood for a day of skiing. His were a pair of wood runners with metal edges, but because bindings at that time were of poor design, the athletic coaches didn't want them to ski for fear of injury. Sometimes he and his buddies were the only ones on the mountain to use the lifts.
High school years were busy. Besides sports, he procured jobs hauling and also had an egg route that took him to hospitals, restaurants and hotels throughout the city of Portland. The Benson was persnickety, wanting only clear eggs with yolks that stood high in the skillet. By the age of fifteen,
Eddie had saved enough money to purchase a 1929 Model A, 2-door Ford sedan for $95, a beautiful dark blue with yellow pinstripe. His second car was a '37 Ford coup with "a lot of pedal and no stop."
There were about 450 students at Mollala and of that only a dozen or so owned autos, which made him popular since this was during the early WWII years and vehicles were becoming scarce. He started trading cars by doing a little clean and polish and some mechanical and by the time he graduated he'd owned nine cars and three trucks.
One instance found him with a friend in his '36 Chevy flatbed hauling a large load from the field. There was quite a flax industry in the area and many towns had a mill, processing seed for linseed oil and stalks to make linen. Not speeding but there being much wind resistance they entered an S curve near Mt. Angel. Eddie could feel the load shifting: it was a Hang on Moment. The truck ended upside down in the ditch with the flax creating a soft landing, the wheels still turning as they exited the cab.
In the summer of Eddie's sixteenth year, he drove his '36 Ford one-and-a-half-ton truck and followed the pea and wheat harvests from Eastern Oregon and Washington to Montana, ending up in Shelby near the Canadian border looking for work. Circumstances found him asking a man for directions and it turned out he owned two 18-wheeler tanker trucks and was needing a driver. Eddie spent the rest of that summer hauling 7,000 gallons of gasoline or kerosene from the oil refineries out of Cut Bank and Sunburst. Some of the runs were over the Rocky Mountains to Kalispell, others to the populated areas of Oregon. The pay was 4 1/2 cents a mile, no sleeper cab, and he had to repair his own flats, of which there were many, since tires were scarce during the war.
Eddie graduated from high school in 1945 and while the conflict was winding down, it was apparent he would be drafted so enlisted in the US Navy. He was seventeen. Aboard the USS LaSalle in the Pacific, he served as quartermaster which included the responsibility of issuing pay to the servicemen aboard. After Japan's surrender in August of 1945, Ed was part of the occupation force at Yokosuka, Japan, managing the payroll workers there. He had his own jeep and there was among the staff a pet monkey who would routinely cause mayhem.
After his military discharge in 1948, Ed went to work for US Bank, beginning his career as a teller. The GI Bill offered night school through Multnomah College in which he attended as well as pursuing other college courses. He married Evelyn Ingalls of Canby in 1949 and they had four children. Under the management of Herb Lenz he was employed for many years at the branch in Oregon City.
Optimist International also occupied his time, an organization supporting youth with programs and service projects such as the Soapbox Derby, held yearly on Mt. Tabor. Always attracted to the outdoors, he had a boat moored near the confluence of the Willamette and Clackamas Rivers, and when the bank closed at 3:00 in the afternoon he left for fishing. Opting for casting rather than the hog line, he made his own lures and spinnakers and caught many Chinook at the Arches near Willamette Falls. Ed traipsed over the rivers and streams of Oregon fishing for salmon and steelhead and spent a great deal of time on the banks of the Wilson, Trask and Kilches. One way of preserving the catch was to can it: give it a light smoke, gently pack in pint jars, add two tablespoons olive oil to each and process. The best smoked salmon sandwiches.
He was an avid hunter as well, at times using bow and arrow. Venison from deer and elk was a staple at dinner and was also made into Thurenger. Birds were plucked and roasted. During this period as a young dad he and his family spent their summer weekends water skiing and traversed and camped the myriad beaches and lakes of Oregon.
Progressing to positions of management he was employed at various US Bank branches including Newberg and Tigard. During his time at Tigard he was among those instrumental in the creation of King City and Summerfield, adult communities, helping to secure financing for developer Ron Sorenson.
In 1973 Ed married Leota Miller and they were partners in business and in life. After thirty-one years, in 1979, he retired from the bank as a vice president and their attention turned to real estate investment, owning and managing numerous properties. Of their own abodes one was near the foothills of Chehalem Mountain, surrounded by forested acreage where the tiny calypso orchid grew, his favorite flower, reminding him of the same that appeared in spring near his boyhood home.
Edward died of natural causes at the age of 92. He is survived by children Craig Fritz, Donna Fritz Robichaud and Rebecca Fritz Buchmann, five grandchildren, six great- grandchildren, children through marriage Linda Miller Nelson and Roy Miller. Daughters Diane Fritz and Gwen Miller Pearson predeceased him.