Elizabeth C. (Marshall) Fredrickson
---
Date of birth - September 25, 1943
Date of death - July 1, 2018
Liz (Elizabeth C. Marshall) Fredrickson, 74, left to walk with Jesus July 1, 2018.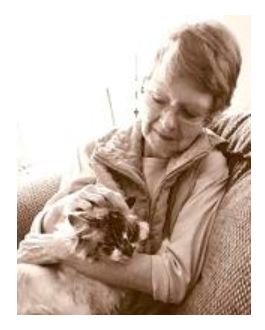 Elizabeth was born in Oregon City, OR, to Florence and Oliver Marshall on September 25, 1943, sister to James and Gerald. She graduated from Molalla Union High School and enrolled at Oregon State University where she met Emil Fredrickson and they married October 17, 1964. Liz worked as an accountant for a number of businesses and organizations in Oregon and Washington. She also volunteered regularly at Interfaith Treasure House.
Liz was dedicated to her church, active in Altar Guild, Martha Circle and stitching. She studied Spanish, was an excellent calligrapher, loved the beach and spending time with her family and friends.
In the words of her grandchildren she was creative, kind, generous, genuine and encouraging. She watched over you and was there for both your best and worst moments, she had a childlike joy over silly things, she was a thoughtful gift giver, she worried about those she loved and she payed attention to details that were important to people.
Liz is survived by her husband, Emil; son, Erik of Camas, WA; daughter, Elise Gallagher of Grass Valley, CA; brother, James Marshall of Clarkes, OR; and grandchildren, McKenna and Rhys Gallagher of Grass Valley, CA, and Johnathan Fredrickson of Camas, WA.
A celebration of Liz' life will be held at Zion Lutheran Church in Camas, WA, on Thursday, July 26 at 11 a.m.
In lieu of flowers, donations may be made to Zion Lutheran Church, 824 NE 4th Avenue, Camas, WA 98607.
To leave a condolence, please visit www.straubsfuneralhome.com and www.columbian.com/obits.