Colleen (Daniels) Griffin Evans
---
March 15, 1924 ~ October 18, 2015
Colleen Daniels Griffin Evans of Mulino, Ore. left this world on October 18, 2015. She was 91.
Colleen came from solid Oregon pioneer stock. She was born to Jesse Daniels and Vaneta Gregory Daniels on March 15, 1924 at her Grandma and Grandpa Gregory's home at the foot of Mulino Hill, then ended her journey halfway up that hill. In between, her family lived across the road and further up the hill.
Colleen married Harold Griffin of Mulino after the outbreak of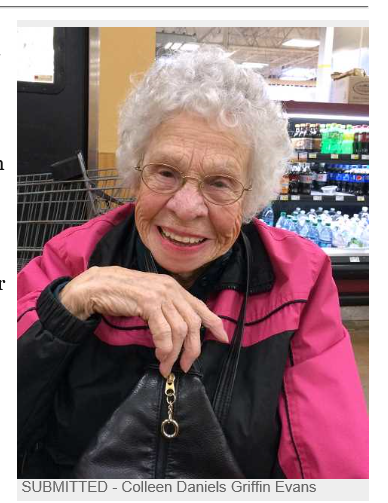 WWII, driving over the state line to Vancouver, after which followed three children; Steven of La Pine, Susan of Loon Lake, Wash., and Sandra, now deceased; six grandchildren, Shawn Griffin, Scott Griffin, Angela Storey, Patrick Doody, Chad and Meagan Greif and 11 great grandchildren.
After Harold passed away, Colleen married Walter Evans, halfway down the hill, and gained 5 more children, 10 grandchildren and 21 great grandchildren.
Colleen loved working in her garden, painting, traveling, fishing, collecting rocks and reading. She passed on her family values to all around her.
Colleen found the joy of fellowship with God when she was 89 years old. It brought a joy in her heart and new life into her soul.
She went on her journey to the next life with trust and faith. We who are left here on earth miss her.
Colleen is survived by her husband, Walter Evans; sister, Joan Johannson; and sister in laws, Janet Gregush of Canby, and Mildred Kolinouskas.
Arrangements entrusted to Canby Funeral Chapel.