Dorothy Ardith (Moen) DuVal
---
Date of birth - October 16, 1923
Date of death - April 23, 2019
Dorothy Ardith Moen was born the second daughter of John and Elsie Moen and was raised in Monitor. After her mom's early passing, her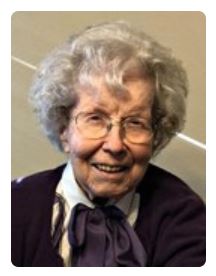 grandparents Ma and Pa Lima helped raise her and sisters, Audrey and Gloria.
After graduation from Molalla High School, she worked as a bookkeeper during WWII. She went on a blind date with Maurice DuVal which started their courtship, later marrying on October 27, 1946. They moved to Klamath Falls for Maurice to attend body and fender school and Dorothy worked at the school as a bookkeeper. Later, they moved back to Silverton to run the family farm and lived in the family farmhouse. They welcomed Dean in 1951 and Jerry in 1958 to the family. While Maurice farmed, Dorothy was a bookkeeper and homemaker for many years.
She enjoyed cooking and baking, gardening, the outdoors, church, and talking. She never met a stranger. She loved her family and would lighten up when they visited, always wanting to feed them.
Dorothy peacefully passed away on the evening of April 23rd with family by her side. She was 95 ½ years of age. She'll be dearly missed.
She is predeceased by Maurice, and survived by her sons, Dean (Lynda) and Jerry (Cynthia); grandchildren, Josh (Robin), Ryan (Jamie), Ashley (Kyle), and Alyssa; great-grandsons Jonathan, David, Daniel, Weston, Garrett, Greyson, and Bryson.
Services will be held 11am, Saturday, May 18, 2019 at Immanuel Lutheran Church, 303 N. Church St., Silverton. In lieu of flowers, contributions may be made to Immanuel Lutheran Church.
The family would like to extend a special appreciation to the staff at The Davenport House as well as Serenity Hospice for the care and support given to Dorothy and her family. Arrangements with Unger Funeral Chapel of Silverton.
Published in StatesmanJournal from May 8 to May 12, 2019