William Fredrick Crann Jr
---
William Fredrick Crann Jr. 1931 - 2015
Crann Jr., William Fredrick, born 05/05/1931, died 12/11/2014 in SAN DIEGO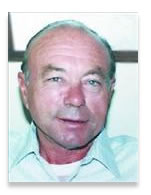 William Fredrick Crann Jr., 83, passed away December 11, 2014, surrounded by his loving family.
He is survived by Lola Crann his beloved wife of 56 years and their three children, five grandchildren and seven great-dgrandchildren, his brother Bob and sister Jean and "Pancho" his chihuahua.
Bill was born in Longview, Washington and grew up in Oregon. He was a Superintendent for W.F Maxwell Company.
He loved to go on long walks with his wife Lola and Pancho. Bill enjoyed traveling, fishing, reading, and his favorite gardening.
He was very loved, hardworking and generous. Dad you will be missed!
Published in San Diego Union Tribune on Jan. 4, 2015