John Peck Cole
---
Date Born: February 22, 1921
Date Deceased: January 15, 2018
---
JOHN PECK COLE Of Wayzata, MN Died peacefully January 15 at age 95.
The youngest of three, John was born February 22, 1921 to Christopher Oliver Cole and Susan Peck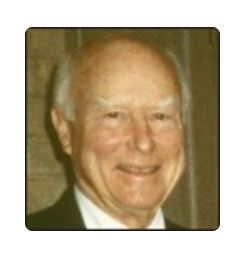 Cole of Canby, OR.
Bright, hardworking, and loyal, John was also fiercely independent by nature and circumstance, qualities that would serve him and others well his whole life.
John learned how to cope with adversity early. Losing his father and mother at age six to tuberculosis and appendicitis, John moved in with his aunt and uncle, Rebecca and Edward Miller, in Molalla, OR. The next year his brother, Oliver, also died of tuberculosis, and his sister, Menenzeth ("Menzie") went to a sanitarium soon thereafter with the same disease.
Graduating early from Molalla High School in 1938, John spent that summer working as a "real cowboy" on two Oregon ranches before entering Oregon State University that fall to study mechanical engineering.
With war coming, John went to work in Henry Kaiser's shipyards in 1941 – first in Portland, OR and then in Richmond, CA, where he also attended UC-Berkeley. Soon after Menzie's death in 1942, John determined it was time to fight for his country and fought to do so.
Because he worked in a "reserved occupation" he had to overcome a prohibition against enlistment. He also had to gain enough weight to pass his physical, which he did with the help of a water fountain during the exam. Then, after battling pneumonia during basic training, he completed flight training and ground school with the Army Air Corps.
Despite repeated efforts to serve overseas, as the last survivor of his family Lt. Cole was kept stateside, ending up at Randolph Field in San Antonio, TX where he served as "Officer of the Day" on both VE and VJ Days. Always the gentleman, one of the highlights for Lt. Cole during the war was serving as the designated escort for Arthur Murray's daughter on more than one occasion.
After the war, John went back to Oregon State, only to be lured away before graduating by a job offer to serve as General Manager for Jones Pacific Export Company. In this position and subsequently as head of John P. Cole & Company, over the next few years, he explored ways to enlarge trans-Pacific trade, only to be hit hard personally by the historic Longshore Strike of 1948 which shut down west coast trade. Fortunately, Kerr, Gifford & Company hired John to be their Export Manager and Peter Kerr sent him to the Far East to find markets for flour and grain. Through the relations John made, Kerr, Gifford handled 70% of all Japanese grain business before the Korean War began in 1950.
After marrying Carol DuBois Thayer of Portland, OR in September 1952, the couple was transferred to New York City in early 1953 where their first son, Christopher, was born. That summer, Cargill, Inc. bought Kerr Gifford & Co. to increase Cargill's access to Asian markets.
Brought to Minneapolis, MN in December 1953, John would remain there with Cargill for the rest of his career and he and Carol would have two more sons, George and Charlie. Serving in a variety of roles as a junior, mid-level, and then senior executive at Cargill, John travelled extensively throughout the world, continuously expanding trade, connections, personal contacts, and friendships.
He constantly strove for equal trade and treatment for all persons regardless of nationality, creed, or color, often dealing with posturing politicians and others both in the U.S. and abroad who took positions based on general stereotypes or wishful thinking rather than the concerns of individuals and hard facts. John's "matter-of-fact" approach, despite strong opposition, helped consummate a wheat deal with the U.S.S.R. in 1964 when the Soviets faced a potentially catastrophic shortage that could have affected millions of lives.
At a time when others sought to build bomb shelters, John Cole built mutually advantageous bridges between peoples. Although his extensive travels, along with changes in social expectations, ultimately led to his divorce from Carol, John worked tirelessly to keep his sons at the center of his life, making sure he provided for them at critical junctures in their lives and turning down several major career opportunities with Cargill and its competitors to do so.
Later, when his sons were older, John was "reintroduced" by mutual friends to Sally Seabury Lang in 1981 and the two would soon marry. Also at this time, John was named Group Vice President of Cargill's Trading Group, having successfully built Cargill's cotton business with the acquisition of Hohenberg Brothers and Ralli Brothers and Coney. Soon thereafter, Cargill also named John to its Board of Directors.
Upon "retiring" in August 1986, John spent much of his time serving as a Cargill Pension Trustee and was an active board member of Anchor Bank. He and Sally enjoyed summers with friends and family at her home on Madeline Island and travels together around the globe.
They initially spent winters in Santa Barbara and Palm Desert, CA before settling down in Carefree, AZ. An avid golfer and willing tennis player, John was a long-time member of Woodhill Country Club and Desert Forest Golf Club.
Fall weekends could also find him in a duck blind or walking a South Dakota field hunting the elusive pheasant.
John is survived by his wife, Sally Seabury Cole; sons, Christopher (Evy), George (Ellie), and Charlie (Lori); stepsons, Channing (Judith Wetterer) and John Clarkson; stepdaughter, Sally Bacon (Eric); grandchildren, Emma (Aaron), Ben, and Rebecca; step-granddaughters, Julia (Sam), Phoebe, and Madeline; and great-grandsons, Oliver, Elliot, and Henry. He was preceded in death by his parents, Christopher and Susan Cole; brother, Oliver; sister, Menenzeth; and former wife, Carol Thayer Cole.
A memorial will be held in Wayzata in the spring. In lieu of flowers, the family requests that memorials be made to the Park Nicollet Hospice Care Team, 6500 Excelsior Boulevard, St Louis Park, MN 55426.
David Lee Funeral Home Wayzata 952-473-5577 www.davidleefuneralhome.com
Published in Pioneer Press from Jan. 16 to Jan. 22, 2017