Rosa Bonheur (Watson) Coffman
---
Date of Birth : September 18, 1911
Date Deceased : December 30, 2003
Mother Bear (Rosa Coffman) died Tuesday, December 30, 2003, at the age of 92. She was born on September 18, 1911, to Rosa B. and James R. Watson. She was raised in Yoder, Ore., a town established by her grandfather, J .S. Yoder, where he built a mill that continues to operate today.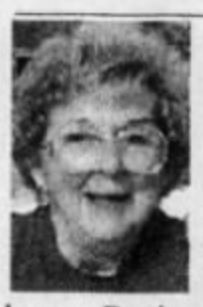 Rosa attended Molalla High School [where she graduated in 1929 -ed.]. She lived in a boardinghouse in Oregon City and worked at the courthouse. During that time, she met Jerry (G. W.) Coffman. They married and moved to the Seattle area, where two daughters, Almeta and Susan were born. Then in 1948, they moved to Oregon, where Linda was born, residing in Mehama.
Rosa worked for the original owner of the Riverview Restaurant, before going to work at Stayton Canning Co., as secretary to the manager, retiring in 1976. Rosa and "Pappy" had plans for retirement, but Jerry died the following January.
Rosa then began the annual winter travels to the Imperial Spa, near the Salton Sea in California, with her widowed sister, Amy. These two "snowbirds" made this trip for over 20 years. Rosa moved into Keizer Retirement, where she lived until her death. She is survived by her daughters, and their families, Almeta R. Peterson and companion, Gene Roberts; daughter, Carla A. Waters, husband, Jim and daughter, Alexis; Susan A. Cozzens, husband, Ron, son Bradley D., and daughter, Kayla; Linda L. Dunn; son, Arlyn M., wife Amber, and son, Cole J.; sisters, Amy Nordyke of Corvallis, Esther Olsen of Yoder, and Beulah Ray of Molalla. She is also survived by brothers-in-law, Bill Coffman of Portland and Paul Frank of Pacific City; and many nieces and nephews.
Rosa and Jerry enjoyed many outdoor activities, including hunting and fishing. After Jerry died, Rosa and her daughters and other clam enthusiasts would make annual week-long trips to Ocean Shores, Wash., to take in the spring clam tides. She enjoyed gardening and showing off her tall com or abundance of zucchini. Rosa and Jerry were charter members of the North Santiam Sportsman's Club, where she became a lifetime member, and she was a member of the Mill City Eagles.
A memorial service is planned for May I, 2004, at Smyrna U.C.C., Canby. Contributions may be made to Smyrna Memorial Fund, 31119 South Canby-Marquam Hwy., Canby, OR 97013. Arrangements are with Virgil T. Golden Funeral Service.