Marie E. (Lawrence) Bronson
Ms. Bronson, of Keizer, died Sunday, Nov. 27, 2011. She was 81.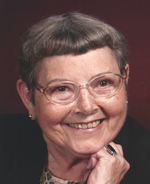 Born in Stevensville, Mont. on Aug. 27, 1930, she grew up in Molalla and graduated from Molalla High School. She worked as a dental assistant and retired to Keizer in 1992.
Ms. Bronson enjoyed reading, watching her grandchildren play sports, garage sales, Oprah and Dr. Phil. She frequented the Keizer-Salem Area Senior Center and was a member of First Christian Church.
She was preceded in death by her husband, Ernest; parents, Albert and Anna Lawrence; and brothers, Bob, Roy, Charles, Duane, Leonard and Raymond Lawrence. Survivors include: son, Dan (Heidi) Bronson; daughter, Brenda (Scott) Bronson-Kenady; sister, Anita Marson; brother-in-law, John Marson; and brother as well as grandchildren, Heather, Kristin, Andrew, Hayden and Ashton; and several nieces and nephews.
Services were held Friday, Dec. 2, at the First Christian Church in Salem. Interment was in Adams Cemetery in Molalla. In lieu of flowers, contributions may be made in Ms. Bronson's memory to Marion County CASA.
Reprinted from the online KeizerTimes, published Dec 9, 2011.