Hazel Mae (Harper) Bronson
---
Hazel Mae Bronson

April 13, 1922 - March 8, 2014

Hazel Mae Bronson was born to Chester and Mable Harper in Mill City, Oregon on April 13, 1922. Hazel Graduated from Molalla high school in 1941. She married the love of her life Kenneth Louis Bronson on February 21, 1942. Together they lived happily for 41 years together, Traveling all over the west coast region before Kenneth's passing in 1983.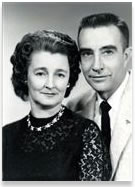 Hazel loved to bowl, fish, tend to her garden, and play pinochle with all her friends.

Hazel was preceded in death by her Husband Kenneth Bronson, Brother Albert Harper, and Sisters Jenny Bring, and Della Schewe.

Hazel is survived by her brothers Bob and Bill Harper, Sister Marie Skinner, Stella Baker, Gert Hepler, June Larsen, Sons Kenneth and Bob Bronson, Grandson Mark Bronson, Great- grandchildren Alicia, Rebecca and John, and Great Great-grandchildren Hunter and Paige.

Services for Hazel will be on Saturday May 10th at 11am, at Howell-Edwards-Doerksen with Rigdon-Ransom Directors.
Published in StatesmanJournal from May 7 to May 9, 2014 -