Robert Louis Bockman
---
Date of birth - September 26, 1949
Date of death - February 19, 2020
Robert Louis Bockman. Known to some as "Robbie," to others as "Bob," and to his kids as "Dad," he died in Austin, Texas Feb. 19, 2020.
He is survived by his wife, Dianne Bockman; his son, Shane Bockman and daughter-in-law, Bee Fullan; his nephews, Bryce Bockman, Greg Heino, Johnny Heino, Garrett Behrman and Hayden Johnson; his nieces, Kara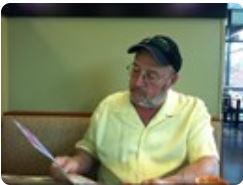 Christiansen, Kristen Gustafson, Barbara Jean Heino, Ruth Vanderpool, Kristen Merlo and Maddie Behrman; his sisters-in law, Susie Scott and Shelley Scott; his brother in-law, Michael Behrman; great-nieces, Helena Christiansen and Emily Darling; his sisters, Patricia Christiansen and Kay Bockman; and his kids' mom, Angela Casella.
Robbie/Bob was born in El Paso, Texas in 1949 to Margaret and Charles Bockman. He was the youngest of five children.
He attended Molalla High School, served in the Army, learned to fly at Aurora Aviation and managed Aurora Aviation. He retired from Bonneville Power Administration where he was a pilot.
He and Angela married and had two children, Shane and Alicia. They later divorced and he and Dianne met and married. They retired to La Center, Wash., and in 2017 moved to Austin to be near his son.
He was a kind, gentle, caring and giving man who had a good sense of humor. He enjoyed watching his son race cars, tinkering with mechanics, good food and playing at farming. He loved his tractor and his car. We will miss him so much.
Robbie/Bob was preceded in death by his daughter, Alicia Bree Bockman; his brother, "Chase" Bockman; his parents; parents-in-law; his sister, Barbara Lee Heino; his nieces, Karen Heino and Katherine Heino; his brother-in-law, Jack Heino; and his sister-in-law, Nelanda Nouvelle.