Shirley (Hamilton) Blank
---
Date of birth - April 5, 1944
Date of death - February 16, 2016
Shirley (Hamilton) Blank died peacefully at home in Milwaukie, Ore., on February 16, 2016.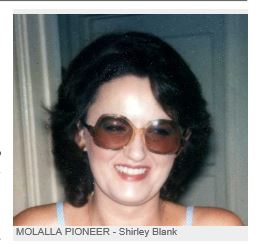 Shirley was born in Modesto, Calif. and attended Molalla Union High School from 1960 – 1962. She lived subsequent years in California and returned to Oregon in 1987.
Her interest in health care prompted her to start her own agency, C&S Home Care.
She is remembered for her infectious laughter, generous heart, and love of animals.
Shirley was preceded in death by her ex-husband, Howard Blank; daughter, Rebecca; sister, Alice Lorraine; and brother, George Edward. She is survived by a sister, Patricia; and three brothers, Richard, Michael, and Robert.
A celebration of Shirley's life will be held May 1 at her home. All who knew and loved Shirley are invited to attend a Hamilton traditional potluck, 1 to 4 p.m. Created on Tuesday, 26 April 2016 13:16
Written by Molalla Pioneer