Blair, Sylvia M. 85, born January 13, 1926, died June 25, 2011.
Sylvia was born to Maxwell and Mary Mitchell in Baker, Ore. She is survived by her husband, Bob; sons, Craig and Kent; and grandchildren, Kelsie and Max.
She and Bob married Nov. 7, 1948, after a whirlwind romance.
Sylvia was a Molalla Buckaroo princess and, later, a majorette at U of O. She used these skills to build her own business, teaching baton twirling and coaching one of her students to a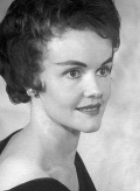 national championship. Later, she conducted baton, dance and cheerleading summer camps throughout the Northwest. Sylvia was inducted into the OCCA Hall of Fame in 2005.
She enjoyed traveling, tennis and gourmet cooking. She could make friends at the drop of a hat. It was not unusual for her to make lifelong friends from a chance encounter. Sylvia touched the lives of many and will be greatly missed.
Arrangements by Wilhelm's Portland Memorial, 503-236-4141.
Reprinted from OregonLive.Com, published in The Oregonian on July 1, 2011.