Blanche Blackman
---
Obituary for Blanche Olivia (Hilton) Blackman
Blanche O. Blackman
Sept 8, 1916 - Mar. 6, 2012

Falls City – Blanche Olivia Blackman, 95, of Molalla, passed away at her daughter's home in Falls City on March 6, 2012. She was born on September 8, 1916 in the dry land area near Molalla, Oregon to Harvey and Lucy (Armstrong) Hilton.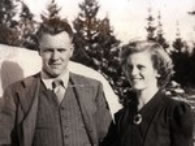 Blanche was an expert seamstress and a master chef. She enjoyed crocheting and creating crafts. Her garden was known for its beauty and English Garden flavor. Cooking and sewing for her family was a lifelong career, although for a time, she also worked as a night watch guard for Avison Lumber.

Blanche is survived by two of her daughters, Nancy (John) Hibbs, of Falls City, Oregon, and Audrey (Ron) Morrison, of Molalla, Oregon. She also has many grandchildren, great grandchildren and great great grandchildren. She is also is survived by her sisters in law, Addie Willbroad, of Woodburn, Oregon and Ruth Blackman Faas, of Sheridan, Oregon and her honorary son, Gordon Herigstad, of Molalla, Oregon.
She is preceded in death by her husband, Tod RJ Blackman, and her twin daughters Peggy Dee and Patty Lee and her son Harvey Blackman, as well as many brothers and sisters.

A potluck memorial service is planned for Saturday, March 24th at 12:00PM at the Molalla Grange. Dallas Mortuary Tribute Center is handling the arrangements.
----------------------------
Blanche Blackman

Sept. 8, 1916 - Mar. 6, 2012

MOLALLA - A Potluck Memorial Service is planned for Sat. Mar. 24th at 12:00 at the Molalla Grange. Dallas Mortuary Tribute Center
Published in StatesmanJournal on March 13, 2012