Richard Laverne Berkey
The 1967 MUHS Arrow printed a memorial page to Cathy Isaacson who was was killed her junior year in a car accident.
August 5, 1929 to March 25, 2017
U.S. Army veteran who served in Korea On March 25, 2017, Canby resident Richard LaVerne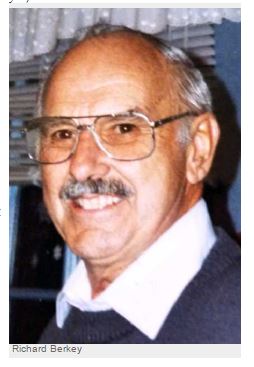 Berkey, age 87, went to be with his Lord and Savior.
He was born in Hubbard Oregon on August 5, 1929 to John and Grace Berkey. He was the baby of 11 children and always enjoyed close relationships with his siblings and their children. He grew up attending Zion Mennonite Church where most of the congregation was related. One of Richard's direct ancestors was noted as one of the founders of the Mennonite movement in this country in Pennsylvania prior to the Revolutionary war in the early 1700s.
During high school Richard moved to Molalla and lived with his sister, Blanche, and her husband Vernon. We think he was a bit of a renegade and the move was so his sister could keep a close eye on him. He graduated from Molalla High School in 1947.
His father, John, was a carpenter and Richard learned this skill and found he enjoyed it. Together they built several homes in the Hubbard area.
As dad tells it he and a friend were out driving in Woodburn when he saw this beautiful girl sitting in her front yard. He stopped to meet her and on March 14, 1952 he married Alice Foltyn.
Richard joined the army in 1951 and after basic training was sent to serve in Korea from 1952 to 1953 with the 184th Engineering Construction Battalion. He was certified in heavy equipment operation and worked building bridges, including the famous bridge over the Imjin River. He told stories of driving a D-7 building roads while being shot at. It was shortly after coming home that he and Alice married. They had 4 children, Denise Laurel, Pamela Jean, Douglas Gene and Aaron Matthew.
While living in Hubbard he teamed up with longtime friend, Lloyd Egli, and together they built custom homes in Portland.
Richard enjoyed hunting, with many hunting trips over the years to Eastern Oregon and around the state. He also enjoyed fishing, taking their camp trailer with Alice all over the state. They also liked to travel, taking many trips to California and the southwestern United States.
Richard also learned to fly in 1955 and flew his Cessna 150 for many years.
Richard and Alice were active members of Calvary Mennonite Church in Aurora and helped in various building projects with the church.
He was preceded in death by his parents, 9 brothers and sisters, daughter Denice, wife Alice. He is survived by his sister Helen Reznicsek, daughter Pamela Spence and her husband Hal of Dallas, son Douglas Berkey and his wife LuAnne of Canby and son Aaron Berkey and his wife Lynne of Canby. He is also survived by grandchildren Allison, Marisa, Mandi, Robert, Kelsey, Callan, Casey and 11 great grandchildren.
A Celebration of Life open house will be held at Calvary Mennonite Church, 6711 S Lone Elder Rd, Aurora, on Saturday, April 15 from 2 to 4pm.