Ardis Vonne (Zumwalt) Belding
---
Date of birth - September 20, 1931
Date of death - December 18, 2018
Ardis was born in 1931 to Veybert and Ethel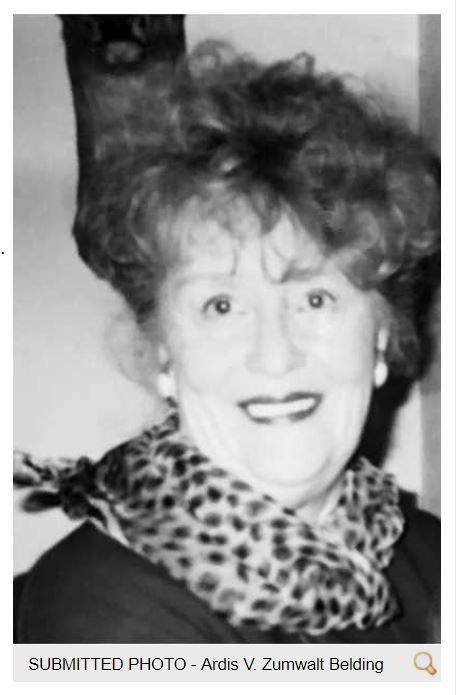 Zumwalt at Port Gambol, WA. She grew up and spent the majority of her life in the Liberal ,Ore. area; after her parents relocated there around 1933. She attended the one room Oak Grove School and graduated a "49er" from Molalla High School. She married Don Belding that same year, they stayed married for 57 years, until his passing.
She was a homemaker, mother, Sunday school teacher, avid flower gardener, and a motor-sport fan. She enjoyed going to garage sales with her daughter and granddaughter, and attending mud bogs, dirt races and demolition derbies with her grandson. Ardis belonged to the Evangelical Church at Liberal Ore., the Mulino Grange- later the Molalla Grange, and the Laurel Chapter OES.
She is survived by her children: Mike Belding (Lori) - Canby and Mata Kimmel (Robin) – Canby; her grandchildren, Amanda Belding - Canby, Lucas Kimmel - Molalla, Matt Belding - Molalla, Tiffany Stubbert - Los Angeles; and her great-grandchildren, Edward and Elayne Kimmel. She is also survived by her siblings, Rod Zumwalt - Canby, Marcia Zumwalt - Tigard, and Deana Livesay - Vancouver, Wa.
Burial was at Adams Cemetery December 21, 2018. A memorial service is scheduled for Saturday January 19, 2019 at 2pm to be held at the Evangelical Community Chapel, off Hwy 213 in Liberal.
As a family we would like to thank our "new" friends; the Providence Hospice purple team, and our "old" friends for all their prayers, kindness, support and wonderful help..